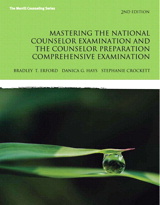 Description
This powerful resource and tool is designed specifically for students preparing for the National Counselor Exam (NCE) or Counselor Preparation Comprehensive Examination (CPCE) and professional counselors preparing to take the NCE as a licensure exam. It includes state-of-the-art summaries of essential core content, numerous sample questions, multiple-choice questions embedded in each content section, and four full-length practice tests: two for the NCE and two for the CPCE. A helpful introductory chapter provides test taking and study preparation strategies to help readers prepare for what to expect with either exam and how to prepare for the exams. Mastering the NCE and CPCE is the ideal tool for taking and passing the two most important examinations in counselor preparation and credentialing.
Enhanced Pearson eText. Included in this package is access to the new Enhanced eText exclusively from Pearson. The Enhanced Pearson eText is:
Engaging. Full-color online chapters include dynamic videos that show what course concepts look like in real classrooms, model good teaching practice, and expand upon chapter concepts. Video links, chosen by our authors and other subject-matter experts, are embedded right in context of the content you are reading.

Convenient. Enjoy instant online access from your computer or download the Pearson eText App to read on or offline on your iPad and Android tablets.*

Interactive. Features include embedded video, embedded assessment, note taking and sharing, highlighting and search.

Affordable. Experience all these advantages of the Enhanced eText along with all the benefits of print for 40% to 50% less than a print bound book.
*The Pearson eText App is available for free on Google Play and in the App Store.* Requires Android OS 3.1 — 4, a 7" or 10" tablet or iPad iOS 5.0 or newer
Table of Contents
INTRODUCTION xix
Chapter 1: Professional Orientation and Ethical Practice
Chapter 2: Social and Cultural Diversity
Chapter 3: Human Growth and Development
Chapter 4: Lifestyle and Career Development
Chapter 5: Helping Relationships
Chapter 6: Group Work
Chapter 7: Assessment
Chapter 8: Research and Program Evaluation
Chapter 9: From Envisioning to Actualization: Marketing Yourself in the 21st Century
by Daniel S. Testa, Jessica A. Headley, and Nicole A. Adamson
Practice Tests of the National Counselor Examination and the Counselor Preparation Comprehensive Examination
NCE Sample Test—Form A
NCE Sample Test—Form B
CPCE Sample Test—Form A
CPCE Sample Test—Form B
Glossary
References
Index