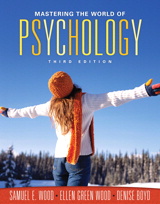 Description
Mastering the World of Psychology is a briefer paperback version of the text that does more to support student learning than any other introductory psychology text available. It makes the connection between scientific principles and the everyday lives of today's diverse student population.
Now organized around numbered Learning Outcomes, the Third Edition of Mastering the World of Psychology is even better equipped to help readers succeed and to apply their knowledge of psychology to their lives. The SQ3R methodology, wealth of pedagogical features, MyPsychLab resources, and built-in Study Guide and Practice Tests make this the ideal learning and study resource.
Table of Contents
Wood/Wood/Boyd, Mastering the World of Psychology, 3e
Table of Contents
Chapter 1: Introduction to Psychology
Chapter 2: Biology and Behavior
Chapter 3: Sensation and Perception
Chapter 4: States of Consciousness
Chapter 5: Learning
Chapter 6: Memory
Chapter 7: Cognition, Language, and Intelligence
Chapter 8: Human Development
Chapter 9: Motivation and Emotion
Chapter 10: Health and Stress
Chapter 11: Personality Theory and Assessment
Chapter 12: Psychological Disorders
Chapter 13: Therapies
Chapter 14: Social Psychology
Appendix: Statistical Methods
Descriptive Statistics
Describing Data with Tables and Graphs
Measures of Central Tendency
Measures of Variability
The Normal Curve
Correlation Coefficient
Inferential Statistics
Statistical Significance
Additional Course Materials
Purchase Info
ISBN-10: 0-205-57258-8
ISBN-13: 978-0-205-57258-8
Format: Book
Digital Choices ?
MyLab & Mastering with Pearson eText is a complete digital substitute for a print value pack at a lower price.
MyLab & Mastering ?
MyLab & Mastering products deliver customizable content and highly personalized study paths, responsive learning tools, and real-time evaluation and diagnostics. MyLab & Mastering products help move students toward the moment that matters most—the moment of true understanding and learning.