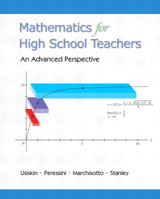 Description
For algebra or geometry courses for teachers; courses in topics of mathematics; capstone courses for teachers or other students of mathematics; graduate courses for practicing teachers; or students who want a better understanding of mathematics.
Filling a wide gap in the market, this text provides current and prospective high school teachers with an advanced treatment of mathematics that will help them understand the connections between the mathematics they will be teaching and the mathematics learned in college. It presents in-depth coverage of the most important concepts in high school mathematics: real numbers, functions, congruence, similarity, and more.
Table of Contents
INTRODUCTION.
1. What is Meant by "An Advanced Perspective"?
I. ALGEBRA AND ANALYSIS WITH CONNECTIONS TO GEOMETRY.
2. Real Numbers and Complex Numbers.
3. Functions.
4. Equations.
5. Integers and Polynomials.
6. Number System Structures.
II. GEOMETRY WITH CONNECTIONS TO ALGEBRA AND ANALYSIS.
7. Congruence.
8. Distance and Similarity.
9. Trigonometry.
10. Area and Volume.
11. Axiomatics and Euclidean Geometry.