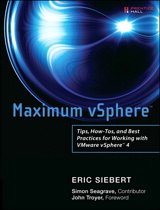 Description
Best Practices, How-Tos, and Technical Deep Dives for Working VMware VI4/VI3 Pros
Maximum vSphere is the comprehensive, up-to-the-minute, working reference for everyone who plans, implements, or administers VMware virtual infrastructure. Authored by top VMware consultants, it brings together proven best practices, tips, and solutions for achieving outstanding performance and reliability in your production environment.
This book brings together crucial knowledge you won't find anywhere else, including powerful new vSphere 4 techniques drawn from the experiences of dozens of advanced practitioners. You'll find sophisticated, expert coverage of virtual machines, vCenter Server, networking, storage, backups, vMotion, fault tolerance, vSphere management, installation, upgrades, security, and much more.
Author Eric Siebert takes the same hands-on approach that made his VMware® VI3 Implementation and Administration so popular with working professionals. Whether you're implementing or managing vSphere 4, upgrading from older virtualization technologies, or taking new responsibilities in any VMware environment, you'll find this bookindispensable.
Coverage includes
Understanding how key vSphere 4 changes affect production environments
Working with ESX and ESXi hosts and host profiles
Getting "under the hood" with vSphere 4 virtual machines
Making the most of vCenter Server and plug-ins
Choosing and configuring storage for maximum efficiency
vSphere Networking: physical/virtual NICs, standard/distributed vSwitches, Cisco Nexus 1000V, and more
Monitoring and troubleshooting vSphere performance: CPU, memory, disk/storage, and other issues
Backing up and recovering VMware environments
Using advanced features, including High Availability (HA), Distributed Resource, Distributed Power Management (DPM) and Vmotion
Managing vSphere through the client, Web access, command line, Management Assistant, Powershell, ESX Service Console, and third-party tools
Building your own vSphere 4 lab
Performing more efficient installations and upgrades
Table of Contents
Foreword xv
Acknowledgments xix
About the Authors xxiii
Chapter 1: Introduction to vSphere 1
What's New in This Release 1
Configuration Maximum Differences from VI3 15
Understanding the Licensing Changes 16
Summary 19
Chapter 2: ESX and ESXi Hosts 21
What's New with ESX and ESXi Hosts in vSphere 21
Selecting Physical Host Hardware to Use with vSphere 28
Differences between ESX and ESXi 31
Using Host Profiles 37
Summary 40
Chapter 3: Virtual Machines 41
What's New with Virtual Machines in vSphere 41
Anatomy of a Virtual Machine 52
Summary 66
Chapter 4: vCenter Server 67
What's New with vCenter Server in vSphere 67
Plug-ins 84
Summary 90
Chapter 5: Storage in vSphere 91
What's New with Storage in vSphere 91
Choosing a Storage Type 100
Additional Storage Considerations 107
Storage Configuration 120
Summary 124
Chapter 6: Networking in vSphere 127
What's New with Networking in vSphere 127
Physical NICs 130
Virtual NICs 132
Standard vSwitches 137
Distributed vSwitches 138
Cisco Nexus 1000V 143
Choosing a vSwitch Type 147
vShield Zones 149
Additional Resources 153
Summary 154
Chapter 7: Performance in vSphere 155
What's New with Performance in vSphere 156
Monitoring vSphere Performance 158
Understanding Host Server Performance Metrics 167
Performance Alarms 171
Troubleshooting vSphere Performance Issues 172
CPU Performance Troubleshooting 178
Memory Performance Troubleshooting 185
Disk/Storage Troubleshooting 195
Network Troubleshooting 200
Additional Troubleshooting Tips 202
Summary 203
Chapter 8: Backups in vSphere 205
Backup Methods 205
VMware Data Recovery 209
Summary 216
Chapter 9: Advanced Features 217
High Availability (HA) 217
Distributed Resource Scheduler (DRS) 224
Distributed Power Management (DPM) 227
VMotion 231
Storage VMotion 235
Fault Tolerance (FT) 237
Summary 245
Chapter 10: Management of vSphere 247
vSphere Client 247
Web Access 249
vSphere CLI 249
vSphere Management Assistant 251
PowerShell and PowerCLI 252
ESX Service Console 254
ESXi Management Console 255
Free Third-Party Tools 257
Summary 258
Chapter 11: Installing vSphere 259
Installing vCenter Server 260
Installing ESX and ESXi 267
Summary 284
Chapter 12: Upgrading to vSphere 285
Compatibility Considerations 285
Planning an Upgrade 287
Upgrade Techniques 293
Phase 1: Upgrading vCenter Server 297
Phase 2: Upgrading ESX and ESXi 301
Phase 3: Upgrading Virtual Machines 306
Summary 309
Chapter 13: Creating and Configuring Virtual Machines 311
Creating a Virtual Machine in vSphere 311
Installing VMware Tools 316
VM Hardware, Options, and Resource Controls 318
Summary 329
Chapter 14: Building Your Own vSphere Lab 331
Why Build a vSphere Lab? 331
What Do You Want from a vSphere Lab? 333
What You Need to Build Your Own vSphere Lab 334
Support: The "Official" Line 335
Hardware 336
Software Components 356
Environmental and Other Lab Considerations 357
Running Nested VMs 358
Summary 363
Index 365
Purchase Info
ISBN-10: 0-13-704573-5
ISBN-13: 978-0-13-704573-0
Format: Safari PTG
This publication is not currently for sale.