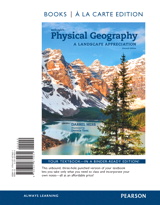 Description
This edition features the exact same content as the traditional text in a convenient, three-hole-punched, loose-leaf version. Books a la Carte also offer a great value for your students–this format costs 35% less than a new textbook.
Continuing Tom L. McKnight's well-known thematic focus on landscape appreciation, Darrel Hess offers a broad survey of all of the physical processes and spatial patterns that create Earth's physical landscape. McKnight's Physical Geography: A Landscape Appreciation provides a clear writing style, superior art program, and abundant pedagogy to appeal to a wide variety of students. This new edition offers a truly meaningful integration of visualization, technology, the latest applied science, and new pedagogy, providingessential tools and opportunities to teach and engage students in these processes and patterns. It is now available with MasteringGeography™; the Mastering platform is the most effective and widely used online tutorial, homework, and assessment system for the sciences.
Package consists of:
Books a la Carte for McKnight's Physical Geography: A Landscape Appreciation, 11/e

Access Card Code Card for MasteringGeography with Pearson eText
Table of Contents
Introduction to Earth

Portraying Earth

Introduction to the Atmosphere

Insolation and Temperature

Atmospheric Pressure and Wind

Atmospheric Moisture

Atmospheric Disturbances

Climate and Climate Change

The Hydrosphere

Cycles and Patterns in the Biosphere

Terrestrial Flora and Fauna

Soils

Introduction to Landform Study

The Internal Processes

Preliminaries to Erosion: Weathering and Mass Wasting

Fluvial Processes

Solution Processes and Karst Topography

The Topography of Arid Lands

Glacial Modification of Terrain

Coastal Processes and Terrain
Purchase Info
ISBN-10: 0-321-86403-4
ISBN-13: 978-0-321-86403-1
Format: Alternate Binding
$125.47
We're temporarily out of stock, but order now and we'll send it to you later.
Back Order