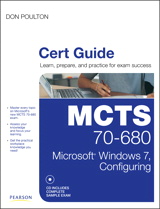 Description
This is the eBook version of the print title. Note that the eBook does not provide access to the practice test software that accompanies the print book.
Start-to-finish MCTS 70-680 preparation from top Microsoft technology consultant, trainer, and author Don Poulton!
Windows 7 installation, upgrades, and deployment
User and application migration
Windows 7 deployment
Physical and virtual hard disk configuration and management
Windows Update
Device and application configuration
Internet Explorer configuration
Networking, including TCP/IP configuration
Firewall settings
Mobile and remote computing
Secure access control for local and shared resources
System performance management and monitoring
Backups, system recovery, and file recovery
Test your knowledge, build your confidence, and succeed!
Packed with visuals to help you learn fast
Dozens of troubleshooting scenarios
Real-world MCTS 70-680 prep advice from experts
Easy-to-use exam preparation task lists
From Don Poulton, professional Microsoft technology consultant, IT training expert, and best-selling exam guide author
Table of Contents
Introduction 3
Chapter 1 Introducing Windows 7 17
Leading Up to Windows 7 17
Windows 7 Editions 20
Features of Windows 7 23
Productivity Improvements 23
Security Improvements 27
A Quick Tour of Windows 7 29
Start Menu and Taskbar 30
Configuring Windows 7 Start Menu and Taskbar 32
Start Menu Properties 32
Taskbar Properties 33
Toolbars 34
Libraries 34
Control Panel 35
System and Security 36
Network and Internet 38
Hardware and Sound 39
Programs 40
User Accounts and Family Safety 41
Appearance and Personalization 42
Clock, Language, and Region 43
Ease of Access 43
Patches, Hotfixes, and Service Packs 43
Summary 44
Chapter 2 Installing Windows 7 47
"Do I Know This Already?" Quiz 47
Identifying Hardware Requirements 51
Hardware Compatibility 52
Software Compatibility 53
Network Requirements 55
File System Considerations 56
Product Activation 57
Performing a Clean Installation of Windows 7 as the Sole Operating System 59
Performing an Attended Installation 59
Dual-Booting Windows 7 65
Boot Management Programs Used by Windows 7 65
Setting Up a Dual-Boot System 66
Other Windows 7 Installation Methods 66
USB 67
CD 67
Network Share 67
WDS 68
Understanding WDS 68
Requirements to Use WDS 69
Troubleshooting Windows 7 Installation Issues 70
Troubleshooting Process 70
Identifying the Point of Failure 71
Discovering the Cause of the Failure 71
Defining a Solution 72
Testing and Implementing the Solution 72
Documenting the Results 72
Troubleshooting an Attended Installation 72
Media Problems 73
Insufficient Hard Drive Space 73
Unrecognizable DVD-ROM Drive 74
Unavailable Network 74
Advanced Startup 80
Refer to Compatibility 80
Troubleshooting Failed Installations 82
Stop Errors or Blue Screen of Death 83
Stopped Installation 84
Review All the Key Topics 85
Complete the Tables and Lists from Memory 85
Definitions of Key Terms 85
Chapter 3 Upgrading to Windows 7 87
"Do I Know This Already?" Quiz 87
Upgrading to Windows 7 from a Previous Version of Windows 91
Preparing a Computer to Meet Upgrade Requirements 92
Windows 7 Upgrade Advisor 92
Additional Preparatory Tasks 94
Upgrading the Computer to Windows 7 95
Migrating from Windows XP 97
The Windows.old Folder 98
Removing the Windows.old Folder 99
Upgrading from One Edition of Windows 7 to Another 100
Windows Anytime Upgrade 101
Upgrading Windows 7 101
Uninstalling Windows 7 102
Review All the Key Topics 104
Complete the Tables and Lists from Memory 104
Definitions of Key Terms 104
Chapter 4 Migrating Users and Applications to Windows 7 107
"Do I Know This Already?" Quiz 107
Migrating Users from One Computer to Another 111
User State Migration Tool 111
Preparing the Server to Run USMT 113
Collecting Files from the Source Computer 114
Loading Collected Files on the Destination Computer 115
Windows Easy Transfer 115
Using Windows Easy Transfer to Collect Files at the Source Computer 116
Using Windows Easy Transfer to Save Files at
the Destination Computer 118
Migrating Users from Previous Windows Versions 120
Using the User State Migration Tool 121
Using Windows Easy Transfer 122
Side by Side Versus Wipe and Load 122
Side by Side Migration 123
Wipe and Load Migration 123
Review All the Key Topics 125
Definitions of Key Terms 125
Chapter 5 Deploying Windows 7 127
"Do I Know This Already?" Quiz 127
Planning a Windows 7 Deployment 132
Understanding Windows Images 133
Understanding Windows PE 134
Understanding Answer Files 137
Understanding Configuration Passes 138
Creating an Answer File 139
Using the Answer Files to Perform an Unattended Installation 144
Capturing a System Image 145
Understanding the System Preparation Tool 145
Using Sysprep to Prepare a System for Capture 146
Creating a WIM File 148
Automated Image Capture 148
Manual Image Capture 150
Preparing System Images for Deployment 151
Understanding the Deployment Image Servicing and
Management Utility 151
Working with DISM 153
Inserting Applications into System Images 154
Inserting Drivers into System Images 156
Inserting Updates into System Images 157
Configuring Tasks to Run After Deployment 157
Deploying Windows System Images 158
Suggested Deployment Strategies 158
High-Touch with Retail Media 159
High-Touch with Standard Image 159
Lite-Touch, High-Volume Deployment 160
Zero-Touch, High-Volume Deployment 160
Using Microsoft Deployment Toolkit 2010
to Deploy Windows 7 161
What's New with MDT 2010 161
Downloading and Installing MDT 2010 162
Using MDT 2010 Deployment Workbench to Create a Deployment Share 163
Adding Windows Images to the Deployment Share 165
Adding Additional Features to Windows Images 168
Using Task Sequences in MDT 2010 169
Using Deployment Points 173
Using MDT 2010 to Distribute Images to Multiple Computers 173
Automated Deployment of Windows 7 by Using Windows
Deployment Services 174
Understanding WDS 174
Setting Up WDS 175
Using WDS to Perform an Automated Deployment of Windows 7 177
Enabling Automatic Network Boot 177
Automating the Setup Process 178
Manually Deploying a Customized Image 179
Troubleshooting an Unattended Installation 180
Problems with Answer Files 180
Boot Disks 180
Switches 181
Answer File Specifications 181
Problems with Sysprep Installations 182
Review All the Key Topics 184
Complete the Tables and Lists from Memory 184
Definitions of Key Terms 185
Chapter 6 Configuring Virtual Hard Disks 187
"Do I Know This Already?" Quiz 187
Understanding VHDs 191
What's New in Virtual Hard Disks? 191
Types of Virtual Hard Disks 192
Tools Used with Virtual Hard Disks 193
Creating and Configuring VHDs 194
Creating VHDs 194
Using Disk Management 194
Using DiskPart to Create a VHD 196
Mounting VHDs 198
Deploying VHDs 199
Preparing a Custom Windows Image 200
Best Practices for Using Native-Boot VHDs 200
Creating a Native-Boot VHD 201
Booting VHDs 203
Adding a Native-Boot VHD to an Older Computer 204
Offline Servicing and Updating VHDs 205
Upgrading a Windows Image to a Higher Edition 208
Using an Answer File to Service an Offline VHD 208
Review All the Key Topics 209
Complete the Tables and Lists from Memory 209
Definitions of Key Terms 209
Chapter 7 Configuring Devices and Updates 211
"Do I Know This Already?" Quiz 211
Installing and Configuring Device Drivers 215
Installing Devices and Drivers 216
Device Stage 217
Updating Drivers 218
Using Device Manager 219
Using Device Manager to Uninstall Drivers 222
Using Device Manager to Disable Drivers 223
Maintaining Device Drivers 223
Managing and Troubleshooting Drivers and Driver Signing 224
What's New with Driver Signing in Windows 7 224
Checking Drivers for Digital Signatures 225
Driver Installation Permissions in Windows 7 227
Configuring Driver Settings 227
Troubleshooting Device Drivers 228
Resolving Driver Conflicts 228
Use of the Action Center to View Device-Related Problems 230
Use of System Information to View Device-Related Problems 231
Using Windows 7 Rollback to Resolve a Problem Driver 231
Configuring Updates to Windows 7 232
Configuring Windows Update Settings 233
Using a WSUS Server with Windows 7 235
Configuring Windows Update Policies 236
Reviewing Update History and Rolling Back Updates 239
Checking for New Updates 240
Review All the Key Topics 241
Complete the Tables and Lists from Memory 241
Definitions of Key Terms 241
Chapter 8 Configuring Applications and Internet Explorer 243
"Do I Know This Already?" Quiz 243
Configuring Application Compatibility 248
Configuring Application Compatibility Mode 248
Implementing Shims 250
Using the Application Compatibility Toolkit 251
Windows XP Mode 253
Internet Explorer Compatibility Issues 255
Configuring Application Restrictions 257
Setting Software Restriction Policies 258
Application Control Policies 262
Capabilities of AppLocker 262
Basic Configuration of AppLocker Policies 263
Creating Additional AppLocker Rules 265
Configuring Internet Explorer 270
Configuring Compatibility View 271
Configuring Security Settings 273
Configuring Internet Explorer Security Zones 274
Configuring Protected Mode in Internet Explorer 276
Configuring the SmartScreen Filter 277
Privacy Tab Settings 279
Handling Cookies 279
Blocking Pop-ups 281
Content Tab Settings 282
Advanced Tab Settings 283
Configuring Providers 283
Managing Add-ons 285
Using Accelerators 287
Using InPrivate Browsing Mode 288
InPrivate Browsing Group Policies 290
Certificates for Secure Websites 291
Review All the Key Topics 294
Complete the Tables and Lists from Memory 295
Definitions of Key Terms 295
Chapter 9 Configuring TCP/IP 297
"Do I Know This Already?" Quiz 297
Understanding the TCP/IP Protocol 301
Configuring TCP/IP Version 4 303
Static IPv4 Addressing 304
Classless Inter-Domain Routing 306
Private IPv4 Networks 307
Dynamic IP Addressing 307
Connecting to a Network 308
Using the Network and Sharing Center to Set Up a TCP/IP v4 Connection 309
Configuring IPv4 Name Resolution 313
Implementing APIPA 315
Configuring TCP/IP Version 6 316
IPv6 Address Syntax 316
IPv6 Prefixes 316
Types of IPv6 Addresses 317
Compatibility Between IPv4 and IPv6 Addresses 318
Connecting to a TCP/IP Version 6 Network 319
Configuring TCP/IPv6 Name Resolution 322
Disabling IPv6 323
Link-Local Multicast Name Resolution 323
Resolving IPv4 and IPv6 Network Connectivity Issues 324
Windows 7 Network Diagnostics Tools 324
Using TCP/IP Utilities to Troubleshoot
TCP/IP 325
ARP 326
FTP and TFTP 326
Ipconfig 327
Nbtstat 328
Netstat 328
Nslookup 328
ping 329
tracert 330
pathping 330
Troubleshooting IPv4 and IPv6 Problems 330
A Suggested Response to a Connectivity Problem 331
Network Discovery 332
Incorrect IPv4 Address or Subnet Mask 332
Unable to Connect to a DHCP Server 333
Duplicate IP Address 333
Unable to Configure an Alternate TCP/IPv4
Configuration 333
Using Event Viewer to Check Network Problems 334
Additional Troubleshooting Hints When Using IPv6 334
Review All the Key Topics 335
Complete the Tables and Lists from Memory 335
Definitions of Key Terms 336
Chapter 10 Configuring Network and Firewall Settings 339
"Do I Know This Already?" Quiz 339
Configuring Networking Settings 344
Network Devices and Locations 344
Setting Up New Network Connections 346
Connecting to Existing Networks 347
Setting Up Network Sharing and Discovery 348
Using Internet Connection Sharing to Share Your
Internet Connection 349
Connecting to Wireless Networks 352
Wireless Networking Protocols 354
Setting Up a Wireless Network Connection 354
Managing Wireless Network Connections 357
Wireless Network Profiles 359
Configuring Location Aware Printing 360
Configuring Security Settings in Windows Firewall 361
Basic Windows Firewall Configuration 362
Using the Windows Firewall with Advanced Security Snap-in 368
Configuring Multiple Firewall Profiles 369
Configuring New Firewall Rules 371
Modifying Rule Properties 375
Configuring Notifications 376
Group Policy and Windows Firewall 376
Review All the Key Topics 379
Complete the Tables and Lists from Memory 379
Definitions of Key Terms 380
Chapter 11 Configuring Access to Local and Shared Resources 383
"Do I Know This Already?" Quiz 383
Configuring Shared Resources 389
Using the Network and Sharing Center to Configure File Sharing 389
Sharing Files, Folders, and Printers 390
Modifying Shared Folder Properties 392
Use of the Public Folder for Sharing Files 396
Mapping a Drive 396
Command-Line Administration of Shared Folders 397
Password-Protected Sharing 398
Media Streaming 398
Folder Virtualization 399
Sharing Printers 401
Configuring Homegroup Settings 403
Creating a HomeGroup 403
Joining a Homegroup 403
Modifying Homegroup Settings 405
Configuring Security Permissions 406
NTFS File and Folder Permissions 407
Applying NTFS Permissions 408
Specifying Advanced Permissions 410
NTFS Permissions Inheritance 414
Taking Ownership of Files and Folders 415
Effective Permissions 416
Viewing a User's Effective Permissions 417
Copying and Moving Files and Folders 418
Copying Files and Folders with NTFS Permissions 418
Moving Files and Folders with NTFS Permissions 419
Using the Mouse to Copy or Move Objects from One Location to Another 420
Practical Guidelines on Sharing and Securing Folders 420
Configuring Data Encryption 421
Encrypting File System Basics 422
Preparing a Disk for EFS 424
Encrypting Files 425
Backing Up EFS Keys 426
Decrypting Files 427
EFS Recovery Agents 427
Review All the Key Topics 430
Complete the Tables and Lists from Memory 431
Definitions of Key Terms 431
Chapter 12 Configuring Access Controls 433
"Do I Know This Already?" Quiz 433
Configuring User Account Control 438
Features of User Account Control 439
Application Prompts 442
Running Programs with Elevated Privileges 443
Configuring User Account Control 444
User Account Control Policies 446
Configuring Authentication and Authorization 449
Controlling Windows Logon 450
Managing Credentials 450
Adding, Editing, and Removing Credentials in Credential Manager 451
Backing Up and Restoring Credentials in Credential Manager 453
Managing Certificates 454
Using Smart Cards 456
Smart Cards and Multifactor Authentication 457
Smart Card Policies 457
Configuring Account Policies 458
Password Policies 458
Account Lockout 460
Unlocking an Account 460
Configuring User Rights 461
Resolving Authentication Issues 464
Resetting Passwords 464
Using a Password Reset Disk 465
Configuring BranchCache 466
Distributed Cache and Hosted Cache 467
Configuring BranchCache Settings 467
Using the netsh Command to Configure BranchCache 467
Using Group Policy to Enable BranchCache 468
Specifying BranchCache Firewall Rules 470
BranchCache Network Infrastructure Requirements 471
Using BranchCache Across a Virtual Private Network 471
Certificate Management with BranchCache 472
Review All the Key Topics 473
Definitions of Key Terms 473
Chapter 13 Configuring Mobile Computing 475
"Do I Know This Already?" Quiz 475
Configuring BitLocker and BitLocker To Go 479
BitLocker Drive Encryption 479
Preparing Your Computer to Use BitLocker 480
Enabling BitLocker 481
Managing BitLocker 484
BitLocker To Go 485
BitLocker Policies 486
Operating System Drives 487
Fixed Data Drive Policies 488
Use of Data Recovery Agents 489
Configuring DirectAccess 491
Network Infrastructure Requirements 493
Using IPv6 with DirectAccess 493
Use of Network Access Protection 494
The DirectAccess Connection Process 494
Configuring DirectAccess Clients 495
Configuring Authentication 496
Configuring Mobility Options 497
Control Panel 497
Windows Mobility Center 498
Using Offline Files 499
Client Computer Configuration 500
Server Configuration 502
Use of the Sync Center 503
Offline File Policies 506
Configuring Transparent Caching of Offline Files 508
Configuring Power Options 508
Power Plans 510
Additional Power Plan Options 511
Advanced Power Settings 512
Battery Meter 515
Power Management and Group Policy 515
Review All the Key Topics 518
Complete the Tables and Lists from Memory 519
Definitions of Key Terms 519
Chapter 14 Configuring Remote Management and Remote Connections 521
"Do I Know This Already?" Quiz 521
Configuring Remote Management 525
Remote Desktop 525
Establishing a Remote Desktop Connection with Another Computer 525
Configuring the Server Side of Remote Desktop 527
Selecting a Nondefault Port 529
Remote Assistance 530
Using Windows Remote Management Service 535
Using Windows Remote Shell 536
Using Windows PowerShell 537
Configuring Remote Connections 540
Understanding Remote Access 541
Remote Access Authentication Protocols 541
Remote Access Security 543
Establishing VPN Connections and Authentication 544
VPN Connection Security 547
Enabling VPN Reconnect 548
Advanced Security Auditing 549
NAP Quarantine Remediation 550
Configuring Dial-Up Connections 552
Accepting Incoming Connections 554
Published Applications on Remote Desktop 555
RD Gateway Policies 557
Using RemoteApp to Specify Applications 558
Review All the Key Topics 558
Complete the Tables and Lists from Memory 559
Definitions of Key Terms 559
Chapter 15 Disk Management 561
"Do I Know This Already?" Quiz 561
Managing Disks and Volumes 565
Basic and Dynamic Disks 566
Working with Basic Disks 568
Converting Basic Disks to Dynamic 572
Working with Dynamic Disks 574
Troubleshooting Disk Problems 576
Managing File System Fragmentation 578
Disk Defragmenter 578
The Defrag.exe Command-Line Tool 580
Error Checking 581
RAID Volumes 582
Creating a RAID-0 Volume 582
Creating a Spanned Volume 585
Creating a Mirrored Volume 585
Creating a RAID-5 Volume 585
Using DiskPart to Create Striped, Mirrored, and RAID-5
Volumes 586
Managing and Troubleshooting RAID Volumes 587
Configuring Removable Drive Policies 587
Review All the Key Topics 589
Complete the Tables and Lists from Memory 589
Definitions of Key Terms 589
Chapter 16 Managing and Monitoring System Performance 591
"Do I Know This Already?" Quiz 591
Windows System Monitoring Tools 596
Configuring and Working with Event Logs 600
Viewing Logs in Event Viewer 601
Customizing Event Viewer 602
Creating Tasks from Events 603
Using Event Log Subscriptions 604
Configuring Computers to Forward and Collect Events 604
Configuring Event Log Subscriptions 605
Managing Computer Performance 608
Reliability Monitor 608
Task Manager 610
Configuring Application Priority 612
Resource Monitor 613
CPU Tab 614
Memory Tab 614
Disk Tab 615
Network Tab 615
Performance Monitor 615
Data Collector Sets 619
Creating Data Collector Sets 619
Using Performance Monitor to Create a Data Collector Set 622
Optimizing and Troubleshooting Memory Performance 623
Optimizing and Troubleshooting Processor Utilization 625
Optimizing and Troubleshooting Disk Performance 626
Command-Line Utilities 628
Configuring Additional Performance Settings 628
Configuring the Hard Drive Cache 628
Windows ReadyBoost 629
System Configuration Utility 631
General Tab 631
Boot Tab 632
Services Tab 632
Startup Tab 633
Tools Tab 633
Configuring the Relative Priority of Foreground and Background Tasks 633
Configuring Processor Scheduling 634
Action Center 635
Advanced Networking Performance Options 636
Configuring Services and Programs to Resolve Performance Issues 636
Review All the Key Topics 639
Complete the Tables and Lists from Memory 639
Definitions of Key Terms 640
Chapter 17 Configuring Backups 643
"Do I Know This Already?" Quiz 643
Using Windows Backup to Protect Your Data 646
Configuring Windows Backup for the First Time 646
Managing and Troubleshooting Your Backups 650
Scheduling Your Backups 653
Using the Command Line to Perform a Backup 654
Creating a System Image 655
Creating a System Recovery Disk 657
Review All the Key Topics 658
Complete the Tables and Lists from Memory 658
Definitions of Key Terms 658
Chapter 18 Configuring System and File Recovery 661
"Do I Know This Already?" Quiz 661
Restoring Files and Folders 665
Using Windows Backup to Recover Data 665
Restoring User Profiles 669
Using Shadow Copies to Restore Damaged or Deleted Files 669
System Restore 671
Running System Restore 672
Configuring System Restore Properties 674
Device Driver Rollback 675
Recovering Your Operating System from Backup 676
Using a System Repair Disk 679
Advanced System Startup Options 682
Last Known Good Configuration 682
Safe Mode 684
Boot Logging 685
Low Resolution Video (640 _ 480) 685
Debugging Mode 685
Disable Automatic Restart on System Failure 685
Disable Driver Signature Enforcement 685
Review All the Key Topics 686
Complete the Tables and Lists from Memory 686
Definitions of Key Terms 686
Practice Exam 689
Answers to Practice Exam 747
Appendix A Answers to the "Do I Know This Already?" Quizzes 785
Appendix B Glossary 817
Index 836
Elements Available on CD
Appendix C Memory Tables
Appendix D Memory Tables Answer Key
TOC, 9780789747075, 10/6/2010