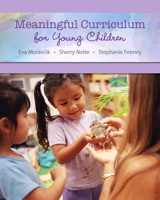 Description
This joyful, child-centered book will help you develop your knowledge of curriculum and understanding of what makes learning experiences meaningful to young children. Designed to help you understand the content and processes involved in curriculum that has intellectual integrity and that celebrates young children, Meaningful Curriculum for Young Children is comprehensive, practical, and engaging to read. It is unique in that it combines a child-centered, child-friendly approach with a focus on meaningful subject area and field-tested content. In this, it demonstrates intellectual integrity and sensitivity to children while supplying you with practical resources for providing educational support to children.
The book focuses on four domains: physical (large motor, fine motor, sensory), creative arts (art, music, creative movement), communication (language, literacy, literature), and inquiry (math, science, social studies). Each of the curriculum chapters explores the value of the subject area, describes children's development in the subject, explains the theory, structure and content of the discipline, and clarifies its connection to early learning standards. A discussion of ways to teach each subject through play in a planned environment, teacher-child interaction, and planned activities is part of each chapter, including examples of a planned activity, a week's plan, the curriculum area in an integrated study, how children with special needs can be included in this curriculum area, and considerations for working with primary school age children.
Table of Contents
Chapter 1: Curriculum That Engages Young Children
Chapter 2: Planning, Implementing, and Assessing Curriculum
Chapter 3: Planning Integrated Curriculum
Chapter 4: Large Motor Curriculum: Moving and Learning
Chapter 5: Fine Motor Curriculum: Manipulating and Coordinating
Chapter 6: Sensory Development Curriculum: Sensing and Perceiving
Chapter 7: Language Curriculum: Speaking and Listening
Chapter 8: Literacy Curriculum: Exploring and Using Print
Chapter 9: Literature Curriculum: Delighting in Books and Words
Chapter 10: Visual Art Curriculum: Creating with Hand and Eye
Chapter 11: Music Curriculum: Creating with Heart and Voice
Chapter 12: Creative Movement Curriculum: Creating with Body and Mind
Chapter 13: Math Curriculum: Discovering Patterns and Solving Problems
Chapter 14: Science Curriculum: Discovering the Natural World
Chapter 15: Social Studies Curriculum: Discovering the Social World
This title is also sold in the various packages listed below. Before purchasing one of these packages, speak with your professor about which one will help you be successful in your course.
Package ISBN-13: 9780133447958
Includes this title packaged with:
NEW MyEducationLab -- Valuepack Access Card
. Pearson Education
$153.73 | Add to Cart
Package ISBN-13: 9780133047943
Includes this title packaged with:
Professionalism in Early Childhood Education: Doing Our Best for Young Children
Stephanie Feeney
$117.60 | Add to Cart
Package ISBN-13: 9780133051384
Includes this title packaged with:
Professionalism in Early Childhood Education: Doing Our Best for Young Children
Stephanie Feeney
NEW MyEducationLab with Pearson eText -- Standalone Access Card -- for Meaningful Curriculum for Young Children
Sherry Nolte, Stephanie Feeney
$124.27 | Add to Cart
Purchase Info
Digital Choices ?
MyLab & Mastering with Pearson eText is a complete digital substitute for a print value pack at a lower price.
MyLab & Mastering ?
MyLab & Mastering products deliver customizable content and highly personalized study paths, responsive learning tools, and real-time evaluation and diagnostics. MyLab & Mastering products help move students toward the moment that matters most—the moment of true understanding and learning.
eTextbook ?
With CourseSmart eTextbooks and eResources, you save up to 60% off the price of new print textbooks, and can switch between studying online or offline to suit your needs.
Once you have purchased your eTextbooks and added them to your CourseSmart bookshelf, you can access them anytime, anywhere.