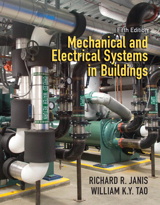 Description
This extensively updated text and reference illuminates the modern realities of planning and constructing buildings with efficient, sustainable mechanical and electrical systems. Throughout, the authors place mechanical and electrical systems design in the overall context of the built environment. They extensively address engineers' teamwork with architects, owners, and facility managers to provide high-quality, productive environments which reflect both environmental and cost concerns. Focusing on the "what," "why," and "how" of ME systems, they incorporate new developments in all major disciplines, including electrical, lighting, telecom, plumbing and HVAC. New coverage in this edition includes: HVAC design using VRF and chilled beam technologies; energy reclaim systems; dedicated outside air systems; assessment of solar thermal system efficiency; new fuel cell technology; updates on the economics of cogeneration, and much more.
Table of Contents
1. Introduction to Mechanical and Electrical Systems: Energy, Sustainability, and Economics
2. HVAC Fundamentals
3. HVAC Delivery Systems
4. Cooling Production Equipment and Systems
5. Heating Production Equipment and Systems
6. Air-Handling Equipment and Systems
7. Piping Equipment and Systems
8. Plumbing Equipment and Systems
9. Fire Protection Equipment and Systems
10. Introduction to Electricity
11. Power Equipment and Systems
12. Communications, Life Safety, and Security Systems
13. Electrical Design and Wiring
14. Light and Lighting
15. Lighting Equipment and Systems
16. Calculations of Illumination
17. Lighting Design
18. Noise and Vibrations in Mechanical and Electrical Systems
19. Architectural Accommodation and Coordination of Mechanical and Electrical Systems
Appendix A. Glossary of Terms, Acronyms, and Abbreviations
Appendix B. Glossary of Technical Organizations
Appendix C. Units and Conversion of Quantities
This title is also sold in the various packages listed below. Before purchasing one of these packages, speak with your professor about which one will help you be successful in your course.
Package ISBN-13: 9780132743723
Includes this title packaged with:
MyConstructionKit -- Valuepack Access Card
. . Pearson Education
MyConstructionKit -- Instant Access -- for Mechanical & Electrical Systems in Buildings
Daphene Koch
$182.07 | Add to Cart
Purchase Info
Digital Choices
MyLab & Mastering ?
MyLab & Mastering products deliver customizable content and highly personalized study paths, responsive learning tools, and real-time evaluation and diagnostics. MyLab & Mastering products help move students toward the moment that matters most—the moment of true understanding and learning.
eTextbook ?
With CourseSmart eTextbooks and eResources, you save up to 60% off the price of new print textbooks, and can switch between studying online or offline to suit your needs.
Once you have purchased your eTextbooks and added them to your CourseSmart bookshelf, you can access them anytime, anywhere.