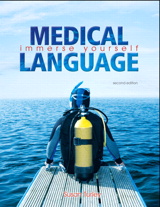 Description
Medical Language is a medical terminology text that truly immerses readers within the language of medicine, so that students can apply their vocabulary within a real-world context. As opposed to fostering rote memorization, this book engages students in an interactive learning experience that will give them a vital tool and inspire them to become truly proficient in medical language.
Table of Contents
PART I INTRODUCTION TO MEDICAL LANGUAGE
CHAPTER 1 The Structure of Medical Language
CHAPTER 2 The Body in Health and Disease
PART II MEDICAL SPECIALTIES AND BODY SYSTEMS
CHAPTER 3 Gastroenterology • Gastrointestinal System
CHAPTER 4 Pulmonology • Respiratory System
CHAPTER 5 Cardiology • Cardiovascular System
CHAPTER 6 Hematology and Immunology • Blood and Lymphatic System
CHAPTER 7 Dermatology • Integumentary System
CHAPTER 8 Orthopedics • Skeletal System
CHAPTER 9 Orthopedics • Muscular System
CHAPTER 10 Neurology • Nervous System
CHAPTER 11 Urology • Urinary System
CHAPTER 12 Male Reproductive Medicine • Male Genitourinary System
CHAPTER 13 Gynecology and Obstetrics • Female Genital and Reproductive System
CHAPTER 14 Endocrinology • Endocrine System
CHAPTER 15 Ophthalmology • Eye
CHAPTER 16 Otolaryngology • Ears, Nose, and Throat
PART III OTHER MEDICAL SPECIALTIES 848
CHAPTER 17 Psychiatry
CHAPTER 18 Oncology
CHAPTER 19 Radiology and Nuclear Medicine
APPENDICES A-1
APPENDIX A Glossary of Medical Word Parts: Combining Forms, Prefixes, and Suffixes
APPENDIX B Glossary of Medical Abbreviations
ANSWER KEY AK-1
PHOTO CREDITS PC-1
INDEX I-1
Purchase Info ?
With CourseSmart eTextbooks and eResources, you save up to 60% off the price of new print textbooks, and can switch between studying online or offline to suit your needs.
Once you have purchased your eTextbooks and added them to your CourseSmart bookshelf, you can access them anytime, anywhere.
Buy Access
Medical Language, CourseSmart eTextbook, 2nd Edition
Format: Safari Book
$42.99 | ISBN-13: 978-0-13-702600-5