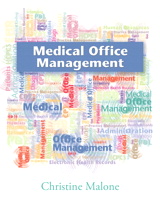 Description
For courses in Medical Office Management.
MEDICAL OFFICE MANAGEMENT, written by an author with over 20 years of medical office management experience, addresses all of the intricacies of managing the medical office. Focusing on both issues and skills, it includes chapters devoted to regulatory compliance, personnel management, front office management, appointment scheduling, medical records management, legal and ethical issues, office policies and procedures, health insurance, quality improvement and risk management and more! With its in-depth approach, it contains all the information a medical office manager needs to perform all of the functions of this demanding position.
Table of Contents
1. Today's Healthcare Environment
2. Communications in the Medical Office
3. Regulatory Compliance in the Healthcare Setting
4. Personnel Management
5. Managing the Front Office
6. Appointment Scheduling
7. Medical Records Management
8. Legal and Ethical Issues in Managing the Medical Office
9. Duties of the Medical Office Manager
10. Use of Computers in the Medical Office
11. Office Policies and Procedures
12. Accounting and Payroll in the Medical Office
13. Billing and Collecting
14. Health Insurance
15. Procedural and Diagnostic Coding
16. Quality Improvement and Risk Management
17. Marketing the Medical Office
Purchase Info ?
With CourseSmart eTextbooks and eResources, you save up to 60% off the price of new print textbooks, and can switch between studying online or offline to suit your needs.
Once you have purchased your eTextbooks and added them to your CourseSmart bookshelf, you can access them anytime, anywhere.
Buy Access
Medical Office Management, CourseSmart eTextbook
Format: Safari Book
$42.99 | ISBN-13: 978-0-13-506083-4