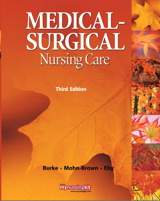 Description
Medical Surgical Nursing Care 3e has an even stronger focus on the professional Practical nursing program. Using a clear and readable writing style, it provides a strong foundation for understanding common disorders that affect adults. Opening units of the book focus on concepts, issues, and foundational knowledge. The units that follow focus on common diseases and disorders organized by body system. Each unit begins with review of the system's structure and function, nursing assessment, and commonly used diagnostic tests for disorders of that system.
To facilitate learning, disorder-specific content follows a consistent pattern, beginning with discussion about the disorder, its risk factors, causes, effects on the body, manifestations, and possible complications. Because nurses are integral members of the healthcare team, interdisciplinary care sections include nursing implications for medications, nutritional therapies, surgery and other treatments, including complementary therapies. Each disorder concludes with nursing care, including priorities of care, health promotion, assessment, nursing care measures, and a section addressing continuity of care to home or the community.
The ever-expanding healthcare knowledge base has led to ever-increasing content in nursing education programs. Rather than attempting to cover every condition or disorder a student may encounter, this book focuses on providing a greater depth of information about the most commonly encountered disorders and their management. The focus is on what the student needs to know and be able to do to provide safe, effective nursing care.
This text provides more depth in common disease processes, their treatment, and related nursing care. Although organized by body systems for clarity, the book retains a nursing focus throughout. Rationales are provided for nursing interventions to help the student understand the "why," not just the "what."
Table of Contents
Unit I Introduction to Medical-Surgical Nursing
1 Nursing in the 21st Century
2 Health, Illness, and Settings of Care
3 Cultural and Developmental Considerations for Adults
4 The Older Adult Client in Health and Illness
5 Guidelines for Client Assessment
6 Essential Nursing Pharmacology
Unit II Foundations of Medical Surgical Nursing
7 Caring for Clients with Altered Fluid, Electrolyte, or Acid-Base Balance
8 Caring for Clients in Pain
9 Caring for Clients with Inflammation and Infection
10 Caring for Client having Surgery
11 Caring for Clients with Altered Immunity
12 Caring for Clients with Cancer
13 Loss, Grief, and End-of-Life Care
14 Caring for Clients Experiencing Shock, Trauma, or Disasters
Unit III Cardiovascular System Disorders
15 The Cardiovascular System and Assessment
16 Caring for Clients with Coronary Heart Disease and Dysrhythmias
17 Caring for Clients with Cardiac Disorders
18 Caring for Clients with Peripheral Vascular Disorders
Unit IV Hematologic and Lymphatic Systems Disorders
19 The Hematologic and Lymphatic Systems and Assessment
20 Caring for Clients with Hematologic and Lymphatic Disorders
Unit V Respiratory System Disorders
21 The Respiratory System and Assessment
22 Caring for Clients with Upper Respiratory Disorders
23 Caring for Clients with Lower Respiratory Disorders
Unit VI Gastrointestinal System Disorders
24 The Gastrointestinal System and Assessment
25 Caring for Clients with Nutritional and Upper Gastrointestinal Disorders
26 Caring for Clients with Bowel Disorders
27 Caring for Clients with Gallbladder, Liver, and Pancreatic Disorders
Unit VII Urinary System Disorders
28 The Urinary System and Assessment
29 Caring for Clients with Urinary Tract and Kidney Disorders
Unit VIII Reproductive Systems Disorders
30 The Reproductive System and Assessment
31 Caring for Male Clients with Reproductive System Disorders
32 Caring for Female Clients with Reproductive System Disorders
33 Caring for Clients with Sexually Transmitted Infections
Unit IX Endocrine Disorders
34 The Endocrine System and Assessment
35 Caring for Clients with Endocrine Disorders
36 Caring for Clients with Diabetes Mellitus
Unit X Neurologic Disorders
37 The Nervous System and Assessment
38 Caring for Clients with Intracranial Disorders
39 Caring for Clients with Degenerative Neurologic and Spinal Cord Disorders
40 Caring for Clients with Eye and Ear Disorders
Unit XI Musculoskeletal Disorders
41 The Musculoskeletal System and Assessment
42 Caring for Clients with Musculoskeletal Trauma
43 Caring for Clients with Musculoskeletal Disorders
Unit XII Integumentary System Disorders
44 The Integumentary System and Assessment
45 Caring for Clients with Skin Disorders
46 Caring for Clients with Burns
Unit XIII Mental Health Disorders
47 Mental Health and Assessment
48 Caring for Clients with Cognitive Disorders (New)
49 Caring for Clients with Psychotic Disorders
50 Caring for Clients with Mood Disorders
51 Caring for Clients with Anxiety Disorders
52 Caring for Clients with Personality Disorders
53 Caring for Clients with Substance Abuse or Dependency
Appendix I NCLEX-PN® Answers
References and Resources
Glossary
Index
Appendices on MyNursingKit Website
I NCLEX-PN®, Care Plan, Care Map and Unit Wrap-Up Answers
II NANDA-Approved Nursing Diagnoses
III Common Laboratory Values
IV Standard Precautions
Purchase Info ?
With CourseSmart eTextbooks and eResources, you save up to 60% off the price of new print textbooks, and can switch between studying online or offline to suit your needs.
Once you have purchased your eTextbooks and added them to your CourseSmart bookshelf, you can access them anytime, anywhere.
Buy Access
Medical-Surgical Nursing Care, CourseSmart eTextbook, 3rd Edition
Format: Safari Book
$42.99 | ISBN-13: 978-0-13-802077-4