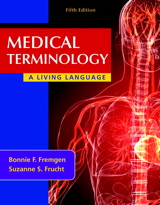 Description
Using a consistent, logical, and step-by-step approach, MEDICAL TERMINOLOGY: A LIVING LANGUAGE, 5/e introduces students to the anatomy and physiology of body systems and the corresponding medical terms related to them. For each body system, broad coverage of anatomy, physiology, pathology, diagnostic procedures, treatment procedures, and pharmacology is provided. The author emphasizes both terms built from Latin and Greek word parts, and modern English terms, helping students develop a full working word part vocabulary they can use to interpret any new term. This edition contains many new terms, and has been reorganized for more efficient learning. To eliminate confusion, Word Building tables have been removed from each chapter and the terms have been distributed throughout the pathology, diagnostic procedure, and treatment procedure tables, where they are more immediately relevant to students.
Note: This ISBN is just the standalone book, if the customer wants the book/access card order the ISBN below;

133962032 / 9780133962031 Medical Terminology: A Living Language PLUS MyMedicalTerminologyLab with Pearson etext -- Access Card Package

Package consists of:
0132843471 / 9780132843478 Medical Terminology: A Living Language
0133936236 / 9780133936230 MyMedicalTerminologyLab with Pearson etext - Access Card - Medical Terminology A Living Language

Table of Contents
1. Introduction to Medical Terminology
2. Body Organization
3. Integumentary System
4. Musculoskeletal System
5. Cardiovascular System
6. Blood and the Lymphatic and Immune Systems
7. Respiratory System
8. Digestive System
9. Urinary System
10. Reproductive System
11. Endocrine System
12. Nervous System
13. Special Senses: The Eye and Ear
14. Special Topics
Appendices
Chapter Review Answers
Glossary/Index
Enhance your learning experience with text-specific study materials.
This title is also sold in the various packages listed below. Before purchasing one of these packages, speak with your professor about which one will help you be successful in your course.
Package ISBN-13: 9780134061863
Includes this title packaged with:
Real Nursing Skills 2.0 -- Access Card -- for Skills for the Practical/Vocational Nurse Online Version, 2nd Edition
. . Pearson Education
Pearson Nurse's Drug Guide 2015
Billie A. Wilson, Margaret Shannon, Kelly Shields
Pearson's Handbook of Laboratory and Diagnostic Tests: With Nursing Implications, 7th Edition
Joyce LeFever Kee
Core Concepts in Pharmacology, 4th Edition
Leland Norman Holland, Michael P. Adams, Jeanine Brice
RealEHRPrep with Cerner: Standard -- Access Card -- (12 month access)
. . Pearson Education
Gerontological Nursing, 3rd Edition
Patricia A. Tabloski
Taber's Cyclopedic Medical Dictionary, 22nd Edition
- Taber's
Comprehensive Nursing Care, Revised Second Edition, 2nd Edition
Roberta Pavy Ramont, Dee Niedringhaus
$665.20 $631.94 | Add to Cart