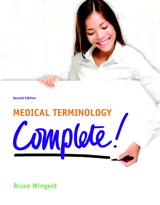 Description
For college-level courses in medical terminology.
This clear, concise, and conversational book teaches the most current and accepted language of healthcare, using a self-guided "programmed learning" approach that has helped thousands of students prepare for health careers. It emphasizes the medical terms used most commonly by hospitals and clinics, while providing only essential information on anatomy and physiology. Discussions are supported by accurate and compelling illustrations and photographs throughout, including many new images. Questions are provided both within and after each chapter, and many medical reports and case studies are provided to enable students to apply what they've learned. This edition has been improved with even more sample reports and case studies; expanded coverage of sight and hearing; and robust interactive tools online.
Table of Contents
1. Introduction to Word Parts and Word Construction
2. Understanding Suffixes
3. Understanding Prefixes
4. The Human Body in Health and Disease
5. The Integumentary System
6. The Skeletal and Muscular Systems
7. Blood and the Lymphatic System
8. The Cardiovascular System
9. The Respiratory System
10. The Digestive System
11. The Urinary System
12. Reproductive System and Obstetrics
13. The Nervous System and Mental Health
14. The Special Senses of Sight and Hearing
15. The Endocrine System
Appendix A: Word Parts Glossary
Appendix B: Abbreviations
Appendix C: Pharmacology Terms
Appendix D: Word Parts for Describing Color, Number, and Plurals
Appendix E: Answers to Practice Exercises and Review
Glossary
Index
Purchase Info ?
With CourseSmart eTextbooks and eResources, you save up to 60% off the price of new print textbooks, and can switch between studying online or offline to suit your needs.
Once you have purchased your eTextbooks and added them to your CourseSmart bookshelf, you can access them anytime, anywhere.
Buy Access
Medical Terminology Complete!, CourseSmart eTextbook, 2nd Edition
Format: Safari Book
$40.99 | ISBN-13: 978-0-13-287349-9