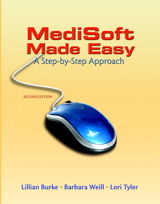 Description
The basis of this book is to provide an introduction to students on a data entry/billing program found in a medical office. The book provides step-by-step instructions with multiple screen shots to ensure that the text is easily understood. Typically this text would be used in a course taught in a computer lab with an instructor providing lecture. It is important that the students approach the text at the beginning and work their way through each activity to ensure that instructions are followed and there are not problems with the software.
An appendix with basic computer skills is provided to give students a basic computer knowledge, especially for students who struggle with computers. The text does assume that students have some basic knowledge of procedure and diagnosis coding. It begins with basic data entry of patient information and then expands on entering cases and completing billing functions.
New to Medisoft Version 14 is the capability of completing UB-04 claims using Medisoft. Appendix 1 teaches students how to utilize this function.
Table of Contents
BRIEF CONTENTS
Chapter 1 An Introduction to Medical Informatics
Chapter 2 A Brief Introduction to the Windows Environment
Chapter 3 An Overview: Using MediSoft in the Medical Office
Chapter 4 A Hands-On Introduction to MediSoft and the Appointment Book
Chapter 5 Entering Patient and Case Information– A Hands-On Approach
Chapter 6 An Introduction to Transaction Entry and Claim Management
Chapter 7 Electronic Media Claims
Chapter 8 Printing Reports
Chapter 9 Designing Reports
Chapter 10 Setting Up a New Practice
Chapter 11 Utilities
Appendix 1 UB-04 Claims
Appendix 2 Introduction to Computers and Computer Literacy
Purchase Info ?
With CourseSmart eTextbooks and eResources, you save up to 60% off the price of new print textbooks, and can switch between studying online or offline to suit your needs.
Once you have purchased your eTextbooks and added them to your CourseSmart bookshelf, you can access them anytime, anywhere.
Buy Access
Medisoft Made Easy: A Step-by-Step Approach, CourseSmart eTextbook, 2nd Edition
Format: Safari Book
$58.99 | ISBN-13: 978-0-13-506087-2