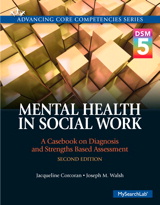 Description
Uses a case study method to teach students clinical assessment skills for working in the mental health field

Organized by types of disorders, Mental Health in Social Work: A Casebook on Diagnosis and Strengths-Based Assessment emphasizes DSM diagnoses of mental disorders that are commonly seen in clinical and social service settings. Becoming conversant with the DSM will allow readers to: 1) offer clients appropriate referrals and treatment; 2) communicate effectively with other mental health professionals; and 3) be eligible for third-party reimbursement. While gaining competence with DSM diagnosis, the reader will also learn to understand clients holistically as they proceed with the assessment and intervention process.

In this update, the ordering of the chapters and content in the chapters themselves have been revised to reflect the changes in the DSM-5. Learning objectives are now included in each chapter.
Advancing Core Competencies Series - As part of the Advancing Core Competencies Series, this title is designed to help students apply CSWE's competencies and practice behaviors examples to specialized fields of practice. Readers will gain experience answering licensing-type higher-level thinking questions tied to the competencies.
This title is available in a variety of formats — digital and print. Pearson offers its titles on the devices students love through CourseSmart, Amazon, and more. To learn more about our programs, pricing options and customization, click the Choices tab.
Table of Contents
In This Section:
I) Brief Table of Contents
II) Detailed Table of Contents
---
I) Brief Table of Contents
PART ONE: ASSESSMENT
Chapter 1: Diagnosis and the Social Work Profession
Chapter 2: Biopsychosocial Risk and Resilience and Strengths Assessment
PART TWO: NEURODEVELOPMENTAL DISORDERS
Chapter 3: Autism Spectrum Disorder
Chapter 4: Neurodevelopmental Disorders: Attention-Deficit Hyperactivity Disorder
PART THREE: SCHIZOPHRENIA SPECTRUM AND OTHER PSYCHOTIC DISORDERS
Chapter 5: Schizophrenia
PART FOUR: BIPOLAR AND RELATED DISORDERS
Chapter 6: Bipolar and Related Disorders
PART FIVE: DEPRESSIVE DISORDERS
Chapter 7: Depressive Disorders
PART SIX: THE ANXIETY, OBSESSIVE-COMPULSIVE, AND TRAUMA AND STRESSOR-RELATED DISORDERS
Chapter 8: The Anxiety, Obsessive-Compulsive, and Trauma and Stressor-Related Disorders
PART SEVEN: FEEDING AND EATING DISORDERS
Chapter 9: Eating Disorders
PART EIGHT: DISRUPTIVE, IMPULSE CONTROL, AND CONDUCT DISORDERS
Chapter 10: Bipolar Disorder
PART NINE: SUBSTANCE-RELATED AND ADDICTIVE DISORDERS
Chapter 11: Substance-Related and Addictive Disorders
PART TEN: NEUROCOGNITIVE DISORDERS
Chapter 12: Alzheimer's Disease
PART ELEVEN: PERSONALITY DISORDERS
Chapter 13: Borderline Personality Disorders
---
II) Detailed Table of Contents
PART ONE: ASSESSMENT
Chapter 1: Diagnosis and the Social Work Profession
The DSM Classification System
Mental Status Examination
Limitations of the DSM
Chapter 2: Biopsychosocial Risk and Resilience and Strengths Assessment
Definitions and Description
Individual Factors
Social Mechanisms
Societal Conditions
Guidelines for Eliciting and Enhancing Client Strengths
Conclusion
PART TWO: NEURODEVELOPMENTAL DISORDERS
Chapter 3: Autism Spectrum Disorder
Prevalence and Comorbidity
Assessment
Biopsychosocial Risk and Resilience Influence
Interventions
Critical Perspective
Chapter 4: Neurodevelopmental Disorders: Attention-Deficit Hyperactivity Disorder
Prevalence and Comorbidity
Assessing ADHD
Biopsychosocial Risk and Reslience Influences
Intervention
Critique
Critical Perspective
PART THREE: SCHIZOPHRENIA SPECTRUM AND OTHER PSYCHOTIC DISORDERS
Chapter 5: Schizophrenia
Prevalence and Comorbidity
Assessments
Biopsychosocial Risk and Resilience Influences
Intervention
Critical Perspective
PART FOUR: BIPOLAR AND RELATED DISORDERS
Chapter 6: Bipolar and Related Disorders
Prevalence and Comorbidity
Assessment of Bipolar Disorder
Biopsychosocial Risk and Resilience Influences
Intervention
Critical Perspective
PART FIVE: DEPRESSIVE DISORDERS
Chapter 7: Depressive Disorders
Prevalence and Comorbidity of Depression
Assessment
Biopsychosocial Risk and Resilience Influences
Intervention
Critical Perspective
PART SIX: THE ANXIETY, OBSESSIVE-COMPULSIVE, AND TRAUMA AND STRESSOR-RELATED DISORDERS
Chapter 8: The Anxiety, Obsessive-Compulsive, and Trauma and Stressor-Related Disorders
Prevalence and Comorbidity
Assessment if the Anxiety Disorders
Biopsychosocial Risk and Resilience Influences
Intervention
Critical Perspective
PART SEVEN: FEEDING AND EATING DISORDERS
Chapter 9: Eating Disorders
Prevalence and Comorbidity
Assessment
Biopsychosocial Risk and Resilience Influences
Intervention
Critical Perspective
PART EIGHT: DISRUPTIVE, IMPULSE CONTROL, AND CONDUCT DISORDERS
Chapter 10: Bipolar Disorder
Prevalence and Comorbidity
Assessment of Odd and CD
Biopsychosocial Risk and Resilience Influences
Intervention for Odd and CD
Critical Perspective
PART NINE: SUBSTANCE-RELATED AND ADDICTIVE DISORDERS
Chapter 11: Substance-Related and Addictive Disorders
Prevalence and Comorbidity
Assessment
Biopsychosocial Risk and Resilience Influences
Intervention
Critical Perspective
PART TEN: NEUROCOGNITIVE DISORDERS
Chapter 12: Alzheimer's Disease
Prevalence and Comorbidity
Assessment Guidelines
Biopsychosocial Risk and Resilience Influences
Intervention
Critical Perspective
PART ELEVEN: PERSONALITY DISORDERS
Chapter 13: Borderline Personality Disorders
Characteristics of Personality Disorders
Borderline Personality Disorder
Prevalence and Comorbidity
Assessment
Biopsychosocial Risk and Resilience Influences
Intervention
Critical Perspective
Appendix: Case Workbook