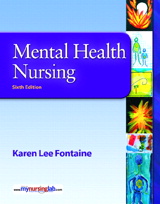 Description
For undergraduate courses in Mental Health Nursing.
Written in a student-friendly style, this comprehensive text, and leading resource in the field of mental health nursing, emphasizes effective communication skills, details cultural considerations, and presents mental health disorders within a systematic organizational framework using the nursing process. It reflects the diversity of its student readers, and the belief that the practice of mental health nursing is in direct response to the social, cultural, environmental, and biological components of mental illness.
Table of Contents
Unit I Foundations of Mental Health Nursing
Chapter 1 Introduction to Mental Health Nursing
Chapter 2 The Family in Mental Health Nursing
Chapter 3 The Community in Mental Health Nursing
Chapter 4 The Role of Cultural Diversity in Mental Health Nursing
Chapter 5 Legal and Ethical Issues
Chapter 6 Neurobiology and Behavior
Unit II Illness Management and Recovery
Chapter 7 Illness Management: Communication and Psychoeducation
Chapter 8 Illness Management: Common Clinical Behaviors
Chapter 9 Illness Management: Treatment Decisions
Chapter 10 Illness Management: Medications
Unit III Mental Disorders
Chapter 11 Anxiety, Dissociative, and Somatoform Disorders
Chapter 12 Eating Disorders
Chapter 13 Mood Disorders
Chapter 14 Schizophrenic Disorders
Chapter 15 Substance-Related Disorders
Chapter 16 Personality Disorders
Chapter 17 Disorders of Children and Adolescents
Chapter 18 Gender Identity and Sexual Disorders
Unit IV Neurobehavioral Disorders
Chapter 19 Cognitive Impairment Disorders
Chapter 20 Neuropsychiatric Problems
Unit V Violence
Chapter 21 Suicide
Chapter 22 Interpersonal Violence
Chapter 23 Sexual Violence
Chapter 24 Community Violence
Chapter 25 Nursing Management of the Problems Associated With Exposure to Natural Disasters and Terrorism
Purchase Info ?
With CourseSmart eTextbooks and eResources, you save up to 60% off the price of new print textbooks, and can switch between studying online or offline to suit your needs.
Once you have purchased your eTextbooks and added them to your CourseSmart bookshelf, you can access them anytime, anywhere.
Buy Access
Mental Health Nursing, CourseSmart eTextbook, 6th Edition
Format: Safari Book
$46.99 | ISBN-13: 978-0-13-502862-9