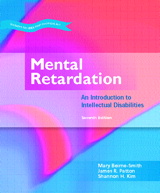 Table of Contents
I. BASIC CONCEPTS.
1. Historical Perspectives.
2. Definition and Terminology.
3. Assessment of Individuals with Intellectual Disabilities.
4. Individual Rights and Legal Issues.
II. BIOLOGY, PSYCHOLOGY, AND SOCIOLOGY OF MENTAL RETARDATION.
5. Psychological Aspects of Intellectual Disability.
6. Biological Aspects and the Promises Prevention (Polloway and Smith).
7. Family Considerations (Trainor).
III. CHARACTERISTICS OF MENTAL RETARDATION.
8. Characteristics of Persons with Mild Mental Retardation.
9. Characteristics of Persons with Severe Intellectual Disabilities.
IV. Programming and Issues Across the Lifespan.
10. Infancy and Early Childhood (Dietrich)
11. School Years.
12. Adult Years.
IV. FUTURE ISSUES.

13. Assistive Technology Applications.
Epilogue.
Glossary.
References.
Name Index.
Subject Index.
These online resources are available at no cost.
Companion Website for Mental Retardation, 7th Edition