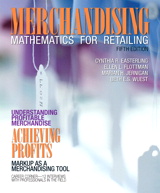 Description
For courses in mathematics for retail merchandising.
Written by experienced retailers, this text introduces students to the essential principles and techniques of merchandising mathematics, and explains how to apply them in solving everyday retail merchandising problems. Instructor- and student-friendly, it features clear and concise explanations of key concepts, followed by problems, case studies, spreadsheets, and summary problems using realistic industry figures. Most chapters lend themselves to spreadsheet use, and skeletal spreadsheets are provided to instructors. This edition is extensively updated to reflect current trends, and to discuss careers from the viewpoint of working professionals. It adds 20+ new case studies that encourage students to use analytic skills, and link content to realistic retail challenges. This edition also contains a focused discussion of profitability measures, and an extended discussion of assortment planning.
Table of Contents
1. Introduction
2. Basic Merchandising Mathematics
3. Profitability
4. Cost of Merchandise Sold
5. Markup as a Merchandising Tool
6. Retail Pricing for Profit
7. Inventory Valuation
8. The Dollar Merchandise Plan
9. Open-to-Buy and Assortment Planning
Purchase Info ?
With CourseSmart eTextbooks and eResources, you save up to 60% off the price of new print textbooks, and can switch between studying online or offline to suit your needs.
Once you have purchased your eTextbooks and added them to your CourseSmart bookshelf, you can access them anytime, anywhere.
Buy Access
Merchandising Mathematics for Retailing, CourseSmart eTextbook, 5th Edition
Format: Safari Book
$39.99 | ISBN-13: 978-0-13-276901-3