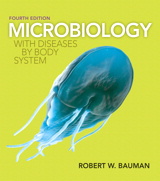 Description
For pre-nursing and allied health students (including mixed-majors courses).
Encourage your students to explore the invisible
Robert Bauman's
Microbiology with Diseases by Body System, Fourth Edition
retains the hallmark art program and clear writing style that have made his books so successful. The Fourth Edition encourages students to visualize the invisible with new QR codes linking to 18 Video Tutors and 6 Disease in Depth features that motivate students to interact with microbiology content and explore microbiology further. The continued focus on real-world clinical situations prepares students for future opportunities in applied practice and healthcare careers. A more robust MasteringMicrobiology
®
program works with the text to provide an interactive learning experience that ensures students learn microbiology both in and out of the classroom.
Microbiology with Diseases by Body System
Plus MasteringMicrobiology
provides an enhanced teaching and learning experience for instructors and students. This program provides the ability to:
Personalize learning with MasteringMicrobiology: MasteringMicrobiology coaches students through the toughest microbiology topics. Engaging tools help students visualize, practice, and understand crucial content.
Think outside the classroom: QR codes in the textbook enable students to use their smartphone or tablet to instantly interact with Dr. Bauman in step-by-step tutorials and explore important developments in microbiology news and research.
Focus on critical thinking: Case studies and engaging activities improve students' ability to solve problems by keeping them interested.
Teach tough topics with superior art: Outstanding art integration through video tutorials, illustrations, and micrographs enables students to absorb and retain difficult microbiology concepts.
Table of Contents
1. A Brief History of Microbiology
2. The Chemistry of Microbiology
3. Cell Structure and Function
4. Microscopy, Staining, and Classification
5. Microbial Metabolism
6. Microbial Nutrition and Growth
7. Microbial Genetics
8. Recombinant DNA Technology
9. Controlling Microbial Growth in the Environment
10. Controlling Microbial Growth in the Body: Antimicrobial Drugs
11. Characterizing and Classifying Prokaryotes
12. Characterizing and Classifying Eukaryotes
13. Characterizing and Classifying Viruses, Viroids, and Prions
14. Infection, Infectious Diseases, and Epidemiology
15. Innate Immunity
16. Adaptive Immunity
17. Immunization and Immune Testing
18. AIDS and Other Immune Disorders
19. Microbial Diseases of the Skin and Wounds
20. Microbial Diseases of the Nervous System and Eyes
21. Microbial Cardiovascular and Systemic Diseases
22. Microbial Diseases of the Respiratory System
23. Microbial Diseases of the Digestive System
24. Microbial Diseases of the Urinary and Reproductive Systems
25. Applied and Environmental Microbiology
Purchase Info ?
With CourseSmart eTextbooks and eResources, you save up to 60% off the price of new print textbooks, and can switch between studying online or offline to suit your needs.
Once you have purchased your eTextbooks and added them to your CourseSmart bookshelf, you can access them anytime, anywhere.
Buy Access
Microbiology with Diseases by Body System, CourseSmart eTextbook, 4th Edition
Format: Safari Book
$90.99 | ISBN-13: 978-0-321-94369-9