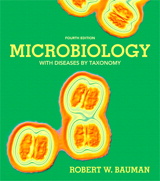 Description
The Fourth Edition of Microbiology with Diseases by Taxonomy is the most cutting-edge microbiology book available, offering unparalleled currency, accuracy, and assessment. The state-of-the-art approach begins with 18 Video Tutors covering key concepts in microbiology. QR codes in the textbook enable students to use their smartphone or tablet to instantly watch the Video Tutors. The approach continues with compelling clinical case studies and emerging disease case studies. Student comprehension is ensured with end-of-chapter practice that encompasses both visual and conceptual understanding.
Enhance your learning experience with text-specific study materials.
Purchase Info
Digital Choices
MyLab & Mastering ?
MyLab & Mastering products deliver customizable content and highly personalized study paths, responsive learning tools, and real-time evaluation and diagnostics. MyLab & Mastering products help move students toward the moment that matters most—the moment of true understanding and learning.
eTextbook ?
With CourseSmart eTextbooks and eResources, you save up to 60% off the price of new print textbooks, and can switch between studying online or offline to suit your needs.
Once you have purchased your eTextbooks and added them to your CourseSmart bookshelf, you can access them anytime, anywhere.
Print Choices
Loose Leaf Version ?
Books a la Carte are less-expensive, loose-leaf versions of the same textbook.