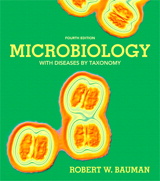 Description
The Fourth Edition of Microbiology with Diseases by Taxonomy is the most cutting-edge microbiology book available, offering unparalleled currency, accuracy, and assessment. The state-of-the-art approach begins with 18 Video Tutors covering key concepts in microbiology. QR codes in the textbook enable students to use their smartphone or tablet to instantly watch the Video Tutors. The approach continues with compelling clinical case studies and emerging disease case studies. Student comprehension is ensured with end-of-chapter practice that encompasses both visual and conceptual understanding.
Enhance your learning experience with text-specific study materials.
This title is also sold in the various packages listed below. Before purchasing one of these packages, speak with your professor about which one will help you be successful in your course.
Package ISBN-13: 9780321976048
Includes this title packaged with:
MasteringMicrobiology with Pearson eText -- ValuePack Access Card -- for Microbiology with Diseases by Taxonomy, 4th Edition
Robert W. Bauman
Microbiology: A Laboratory Manual, Books a la Carte Edition, 10th Edition
James G. Cappuccino, Natalie Sherman
$296.73 $284.12 | Add to Cart
Package ISBN-13: 9780133854558
Includes this title packaged with:
Current Issues in Microbiology, Volume 2
Scientific American
Current Issues in Microbiology, Volume 1
Scientific American
$232.60 $222.71 | Add to Cart