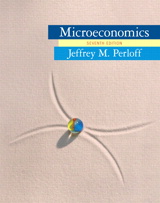 Description
For all Intermediate Microeconomics courses at the undergraduate or graduate level.
Microeconomics has become a market leader because Perloff presents theory in the context of real, data-driven examples, and then develops intuition through his hallmark Solved Problems. Students gain a practical perspective, seeing how models connect to real-world decisions being made in today's firms and policy debates.
The Seventh Edition is substantially updated and modified based on the extremely helpful suggestions of faculty and students who used the first six editions. Every chapter is thoroughly revised and includes new or updated examples and applications.
It is easy to encourage students to practice working problems with MyEconLab, the online homework and tutorial system. MyEconLab includes exercises and Solved Problems pulled right from the book, as well as Economics Videos featuring ABC News.
This program will provide a better teaching and learning experience—for you and your students. Here's how:
Improve Results with MyEconLab: MyEconLab delivers proven results in helping students succeed and provides engaging experiences that personalize learning.

Help Students Review and Apply Concepts: Examples and exercises help students practice and connect to real-world decisions being made today in today's firms and policy debates.

Keep Your Course Current and Relevant: New examples, exercises, and statistics appear throughout the text.
Note: You are purchasing a standalone product; MyEconLab does not come packaged with this content. If you would like to purchase both the physical text and MyEconLab search for ISBN-10: 0133577864 ISBN-13: 9780133577860. That package includes ISBN-10: 0133456919 /ISBN-13: 9780133456912 and ISBN-10: 0133486443 / ISBN-13: 9780133486445
MyEconLab is not a self-paced technology and should only be purchased when required by an instructor.
Table of Contents
1. Introduction
2. Supply and Demand
3. Applying the Supply-and-Demand Model
4. Consumer Choice
5. Applying Consumer Theory
6. Firms and Production
7. Costs
8. Competitive Firms sand Markets
9. Applying the Competitive Model
10. General Equilibrium and Economic Welfare
11. Monopoly
12. Pricing and Advertising
13. Oligopoly and Monopolistic Competition
14. Game Theory
15. Factor Markets
16. Interest rates, Investments, and Capital Markets
17. Uncertainty
18. Externalities, Open-Access, and Public Goods
19. Asymmetric Information
20. Contracts and Moral Hazards
Purchase Info ?
With CourseSmart eTextbooks and eResources, you save up to 60% off the price of new print textbooks, and can switch between studying online or offline to suit your needs.
Once you have purchased your eTextbooks and added them to your CourseSmart bookshelf, you can access them anytime, anywhere.
Buy Access
Microeconomics, CourseSmart e-Textbook, 7th Edition
Format: Safari Book
$110.99 | ISBN-13: 978-0-13-345707-0