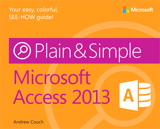 Description
Learn the simplest ways to get things done with Microsoft Access 2013
Get the full-color, visual guide that makes learning Microsoft Access 2013 plain and simple! Follow the book's easy steps and screenshots and clear, concise language to learn the simplest ways to build a database and sort information.
Here's WHAT you'll learn:
Build and manage your own database
Apply professional designs across your databases
Create presentations and publish reports online
Secure your database with passwords and encryption
Exchange data with other databases and documents
Interact with your data easier using macros
Here's HOW you'll learn it:
Jump in wherever you need answers
Follow easy STEPS and SCREENSHOTS to see exactly what to do
Get handy TIPS for new techniques and shortcuts
Use TRY THIS! Exercises to apply what you learn right away
Table of Contents
Chapter 1: About this book
Chapter 2: Creating a custom Web App
Chapter 3: Modifying a Web App
Chapter 4: Creating a desktop database
Chapter 5: Working with data in datasheets
Chapter 6: Selecting data using queries
Chapter 7: Modifying data using queries
Chapter 8: Improving presentations with forms
Chapter 9: Using controls effectively
Chapter 10: Preparing data to print using reports
Chapter 11: Exchanging data
Chapter 12: Introducing the power of macros
Chapter 13: Administrating a database
About the Author
Purchase Info
Digital Choices ?
MyLab & Mastering with Pearson eText is a complete digital substitute for a print value pack at a lower price.
eTextbook ?
With CourseSmart eTextbooks and eResources, you save up to 60% off the price of new print textbooks, and can switch between studying online or offline to suit your needs.
Once you have purchased your eTextbooks and added them to your CourseSmart bookshelf, you can access them anytime, anywhere.