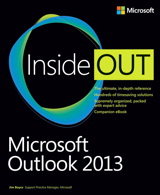 Description
Conquer Microsoft Outlook—from the inside out!
Dive into Outlook 2013—and really take control of your communications and workday! This supremely organized reference packs hundreds of timesaving solutions, troubleshooting tips, and workarounds. It's all muscle and no fluff. Discover how the experts tackle Outlook—and challenge yourself to new levels of mastery.
Connect to Microsoft SharePoint and social networks with Outlook
Customize and configure Outlook with advanced setup options
Expertly manage your contacts and other critical data
Optimize team efficiency by sharing your calendar and tasks
Collaborate through SharePoint libraries and files
Encrypt your data, protect against viruses, and filter spam
Use Outlook 2013 as a Microsoft Exchange Server client
Communicate and collaborate using Microsoft Lync and Skype
Work with Outlook using a web browser or mobile device
For Intermediate and Advanced Users
Table of Contents
Introduction
Part I: Getting Started with Outlook 2013

Chapter 1: What's new in Outlook 2013?
Chapter 2: Starting Outlook
Chapter 3: Setting up Accounts in Outlook
Chapter 4: Working in and Configuring Outlook
Chapter 5: Creating and Using Categories

Part II: Working with Email

Chapter 6: Basic Email Tasks
Chapter 7: Advanced Email Tasks
Chapter 8: Security and Data Protection
Chapter 9: Managing Your Email
Chapter 10: Managing Junk Email
Chapter 11: Using Rules, Alerts, and Automatic Responses
Chapter 12: Finding and Organizing your Email

Part III: Working with Contacts and Address Books

Chapter 13: Managing Address Books and Contact Groups
Chapter 14: Working with Contacts
Chapter 15: Social Networking and Outlook

Part IV: Managing Your Calendar and Tasks

Chapter 16: Scheduling Appointments
Chapter 17: Scheduling Meetings, Rooms, and Resources
Chapter 18: Working with Tasks

Part V: Collaboration

Chapter 19: Using Outlook and Lync
Chapter 20: Sharing Information between Outlook and SharePoint
Chapter 21: Delegating Responsibilities to an Assistant
Chapter 22: Sharing Calendars

Part VI: Security and Backup

Chapter 23: Virus Protection
Chapter 24: Archiving and Backing up your Data

Part VII: Customizing Outlook and Using Advanced Features

Chapter 25: Creating and Using Templates
Chapter 26: Customizing the Outlook Interface
Chapter 27: Designing and Using Custom Forms
Chapter 28: Automating Common Tasks
Chapter 29: Using Group Policy and Custom Installations
Chapter 30: Accessing Your Mailboxes without Outlook
Purchase Info
Digital Choices
eTextbook ?
With CourseSmart eTextbooks and eResources, you save up to 60% off the price of new print textbooks, and can switch between studying online or offline to suit your needs.
Once you have purchased your eTextbooks and added them to your CourseSmart bookshelf, you can access them anytime, anywhere.