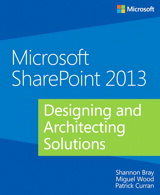 Description
Get the information you need to make good SharePoint design decisions
Determine the best design for your SharePoint implementation by gaining a deeper understanding of how the platform works. Written by a team of SharePoint experts, this practical guide introduces the Microsoft SharePoint 2013 architecture, and walks you through design considerations for planning and building a custom SharePoint solution. It's ideal for IT professionals, whether or not you have experience with previous versions of SharePoint.
Discover how to:
Dive deeper into SharePoint 2013 architecture components
Gather requirements for a solution that fits your needs
Upgrade from Microsoft SharePoint 2010 to 2013
Design service applications for performance and redundancy
Provide the right storage plan for a SharePoint farm
Map authentication and authorization requirements to your solution
Take steps necessary to design a secure implementation
Plan your business continuity management strategy
Validate your SharePoint architecture to ensure success
Table of Contents
Introduction
Planning for Microsoft SharePoint 2013

Chapter 1: Understanding the Microsoft SharePoint 2013 architecture
Chapter 2: Introducing Windows PowerShell and SharePoint 2013 cmdlets
Chapter 3: Gathering requirements

Design considerations for Microsoft SharePoint 2013

Chapter 4: Understanding the service application model
Chapter 5: Designing for SharePoint storage requirements
Chapter 6: Mapping authentication and authorization to requirements
Chapter 7: Designing for platform security
Chapter 8: Upgrading your SharePoint 2010 environment

Concepts for infrastructure reliability

Chapter 9: Maintaining and monitoring Microsoft SharePoint
Chapter 10: Planning your business continuity strategy
Chapter 11: Validating your architecture

About the authors
Purchase Info
Digital Choices
eTextbook ?
With CourseSmart eTextbooks and eResources, you save up to 60% off the price of new print textbooks, and can switch between studying online or offline to suit your needs.
Once you have purchased your eTextbooks and added them to your CourseSmart bookshelf, you can access them anytime, anywhere.