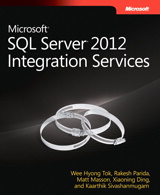 Description
Build and manage data integration solutions with expert guidance from the Microsoft SQL Server Integration Services (SSIS) team. See best practices in action and dive deep into the SSIS engine, SSISDB catalog, and security features. Using the developer enhancements in SQL Server 2012 and the flexible SSIS toolset, you'll handle complex data integration scenarios more efficiently—and acquire the skills you need to build comprehensive solutions. Discover how to:
Use SSIS to extract, transform, and load data from multiple data sources
Apply best practices to optimize package and project configuration and deployment
Manage security settings in the SSISDB catalog and control package access
Work with SSIS data quality features to profile, cleanse, and increase reliability
Monitor, troubleshoot, and tune SSIS solutions with advanced features such as detailed views and data taps
Load data incrementally to capture an easily consumable stream of insert, update, and delete activity
Purchase Info
Digital Choices
eTextbook ?
With CourseSmart eTextbooks and eResources, you save up to 60% off the price of new print textbooks, and can switch between studying online or offline to suit your needs.
Once you have purchased your eTextbooks and added them to your CourseSmart bookshelf, you can access them anytime, anywhere.