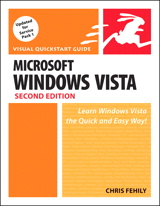 Description
Microsoft's Windows Vista will open up for its users a whole new way of using their PCs. With plenty of screenshots to guide users along the way, respected author Chris Fehily takes readers through Vista's breakthrough capabilities, including its new user interface, Sidebar, Internet Explorer, Media Player, anti-spyware, Mail, SideShow, and photo-sharing capabilities; as well as all the new enhancements included in the Service Pack 1 update. Windows Vista Service Pack 1 will deliver improvements and enhancements to the existing Vista features that will significantly impact customers, and this book is the quickest way to mastering them! The updates in Windows Vista SP1 cover quality improvements (reliability, security, and performance), support for emerging hardware and standards, and more. Windows Vista SP1 will include improvements that target some of the most common causes of crashes and hangs, giving users a more consistent experience.
Purchase Info
ISBN-10: 0-321-57296-3
ISBN-13: 978-0-321-57296-7
Format: Safari PTG
This publication is not currently for sale.