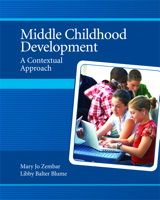 Description
Middle Childhood Development: A Contextual Approach is a new and integrative resource for practitioners who work with children ages 6 through 12. With a focus on the historical and cultural context of middle childhood and on developmental pathways, this text explores the ways in which middle childhood is considered both a stage of development and a transitional period.
An Emphasis on Application
Current research is translated into practical applications for educators, parents, and other professionals. See the feature "Guideposts for Working with School-age Children;" for examples, see pages 90, 173 and 332.
In addition, "Stop and Reflect" questions embedded in the text also allow readers to integrate and apply chapter content to their own lives; for examples, see pages 108, 166 and 328.
An Integrated Discussion of Research and Theories
Based on recent research findings, the authors provide suggestions on what to expect and how to interact with children in middle childhood.
Rather than one abstract introductory chapter, psychological theories of development are applied throughout the text to address particular chapter content in integrated sections called "Theoretical Viewpoints;" for examples, see pages 78, 158, and 304. Each chapter also has a cumulative table of the theories presented in that chapter.
Each chapter includes key research on the ecologies of family, school, and community highlighted in separate sections called "Development in Context;" for examples, see pages 112, 184 and 334.
In each chapter, pedagogical boxes called "Roadmap to Understanding Theory and Research" and "Roadmap to Successful Practice" are included that alert students to key illustrations of chapter content; for examples, see pages 97, 182, and 333.
Table of Contents
Brief Contents
Chapter 1 Contexts of Middle Childhood
Chapter 2 Studying Middle Childhood
Chapter 3 Physical Development in Middle Childhood
Chapter 4 Puberty, Sexuality, and Health
Chapter 5 Cognitive Development in Middle Childhood
Chapter 6 Literacy, Intelligence, and Academic Achievement
Chapter 7 Affective Development in Middle Childhood
Chapter 8 Relationships and Families
Chapter 9 Social and Moral Development in Middle Childhood
Chapter 10 Friends, Play, and Peer Relations
Chapter 11 Social Identity and Gender Development in Middle Childhood
Chapter 12 Beyond Middle Childhood: Adolescence