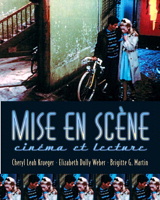 Description
Mise en scène: Cinéma et lecture uniquely motivates students to build and practice their French language skills through the study of film by balancing attention to content, culture, and communication. Using authentic films and readings created for French-speaking audiences, Mise en scène guides students to expand their capacity to use French as they engage independently with these materials and interactively with fellow students and native speakers.
0133884104 / 9780133884104 Mise en scène: cinéma et lecture Plus French Grammar Checker Access Card (one semester) -- Access Card Package
Package consists of:
0131839691 / 9780131839694 Mise en scène: cinéma et lecture
0133893758 / 9780133893755 French Grammar Checker Access Card (one semester)
Table of Contents
Chapitre préliminaire: Le cinéma hollywoodien et le cinéma français
CHAPITRE 1: Les Temps « modernes »
Le fabuleux destin d'Amélie Poulain

Salut cousin!

Bande à part
CHAPITRE 2: Histoire(s) racontée(s)
Le retour de Martin Guerre
Indochine
Lumumba
CHAPITRE 3: Le suspense et la surprise
Betty Fisher et autres histoires
Harry, un ami qui vous veut du bien
Les yeux sans visage
CHAPITRE 4: Rites de passage
Kirikou et la sorcière

Les parapluies de Cherburg

La promesse
CHAPITRE 5: Le comique et le rire
Mon oncle

Les visiteurs
Le dîner de cons
CHAPITRE 6: Emplois du temps
Être et avoir

La vie sur terre

Les glaneurs et la glaneuse
Purchase Info
Print Choices
Alternative Options ?
Click on the titles below to learn more about these options.