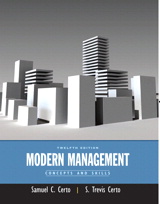 Description
Core concepts, cutting-edge skill training.

Modern Management is a traditionally organized principles of management text that integrates core concepts with cutting-edge skill training—all while keeping the focus on application.
Table of Contents
PART 1: INTRODUCTION TO MODERN MANAGEMENT
Chapter 1. Introducing Modern Management: Concepts and Skills
Chapter 2. Managing: History and Current Thinking
PART 2: MODERN MANAGEMENT CHALLENGES
Chapter 3. Corporate Social Responsibility, Ethics, and Sustainability
Chapter 4. Management and Diversity
Chapter 5. Managing in the Global Arena
Chapter 6. Management and Entrepreneurship
PART 3: PLANNING
Chapter 7. Principles of Planning
Chapter 8. Making Decisions
Chapter 9. Strategic Planning: Strategies, Tactics, and Competitive Dynamics
Chapter 10. Plans and Planning Tools
PART 4: ORGANIZING
Chapter 11. Fundamentals of Organizing
Chapter 12. Responsibility, Authority, and Delegation
Chapter 13. Managing Human Resources
Chapter 14. Organizational Change: Stress and Conflict
PART 5: INFLUENCING
Chapter 15. Influencing and Communication
Chapter 16. Leadership
Chapter 17. Motivation
Chapter 18. Groups and Teams
Chapter 19. Managing Organization Culture
Chapter 20. Creativity and Innovation
PART 6: CONTROLLING
Chapter 21. Controlling, Information, and Technology
Chapter 22. Production Management and Control


Purchase Info
ISBN-10: 0-13-217631-9
ISBN-13: 978-0-13-217631-6
Format: Alternate Binding
This title is currently unavailable on myPearsonStore.
Digital Choices ?
MyLab & Mastering with Pearson eText is a complete digital substitute for a print value pack at a lower price.
MyLab & Mastering ?
MyLab & Mastering products deliver customizable content and highly personalized study paths, responsive learning tools, and real-time evaluation and diagnostics. MyLab & Mastering products help move students toward the moment that matters most—the moment of true understanding and learning.
+ Other Options