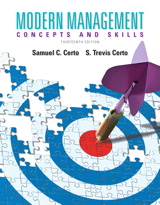 Description
For undergraduate Principles of Management courses.

Core concepts, cutting-edge skill training: transform students into managers.

Modern Management is a traditionally organized principles of management text that integrates core concepts with cutting-edge skill training–all while keeping the focus on application.

This edition provides the latest concepts and empirical research as well as the most recent examples of management in today's business world.
Table of Contents
Part 1 Introduction to Modern Management
Chapter 1. Introducing Modern Management: Concepts and Skills
Chapter 2. Managing: History and Current Thinking
Part 2 Modern Management Challenges
Chapter 3. Managers and Society
Chapter 4. Management and Diversity
Chapter 5. Managing in the Global Arena
Chapter 6. Management and Entrepreneurship
Part 3 Planning
Chapter 7. Principles of Planning and Planning Tools
Chapter 8. Making Decisions
Chapter 9. Strategic Planning: Strategies, Tactics, and Competitive Dynamics
Part 4 Organizing
Chapter 10. Fundamentals of Organizing
Chapter 11. Responsibility, Authority, and Delegation
Chapter 12. Human Resource Management
Chapter 13. Organizational Change: Stress, Conflict, and Virtuality
Part 5 Influencing
Chapter 14. Influencing and Communication
Chapter 15. Leadership
Chapter 16. Motivation
Chapter 17. Groups and Teams
Chapter 18. Managing Organization Culture
Chapter 19. Encouraging Creativity and Innovation
Part 6 Controlling
Chapter 20. Controlling, Information, and Technology
Chapter 21. Production and Control
Purchase Info ?
With CourseSmart eTextbooks and eResources, you save up to 60% off the price of new print textbooks, and can switch between studying online or offline to suit your needs.
Once you have purchased your eTextbooks and added them to your CourseSmart bookshelf, you can access them anytime, anywhere.
Buy Access
Modern Management, CourseSmart eTextbook, 13th Edition
Format: Safari Book
$120.99 | ISBN-13: 978-0-13-305994-6