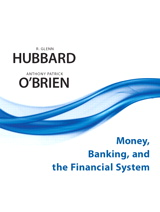 Description
Money and Banking
presents money, banking, and the financial system in the context of contemporary events, policy, and business with an integrated explanation of today's financial crisis.
Available with MyEconLab!
MyEconLab
is a powerful assessment and tutorial system that works hand-in-hand with Money and Banking. MyEconLab includes comprehensive homework, quiz, test, and tutorial options, where instructors can manage all assessment needs in one program.
Table of Contents
Brief Contents
Part 1: Foundations
Chapter 1 Introducing Money and the Financial System 1
Chapter 2 Money and the Payments System 25
Part 2: Financial Markets
Chapter 3 Interest Rates and Rates of Return 51
Chapter 4 Determining Interest Rates 87
Chapter 5 The Risk Structure and Term Structure
of Interest Rates 123
Chapter 6 The Stock Market, Information, and
Financial Market Efficiency 156
Chapter 7 Derivatives and Derivative Markets 189
Part 3: Financial Institutions
Chapter 8 The Market for Foreign Exchange 224
Chapter 9 Transactions Costs, Asymmetric Information,
and the Structure of the Financial System 252
Chapter 10 The Economics of Banking 279
Chapter 11 Investment Banks, Mutual Funds, Hedge
Funds, and the Shadow Banking System 314
Chapter 12 Financial Crises and Financial Regulation 347
Part 4: Monetary Policy
Chapter 13 The Federal Reserve and Central Banking 384
Chapter 14 The Federal Reserve's Balance Sheet
and the Money Supply Process 411
Chapter 15 Monetary Policy 442
Chapter 16 The International Financial System
and Monetary Policy 481
Part 5: The Financial System and the Macroeconomy
Chapter 17 Monetary Theory I: The Aggregate Demand
and Aggregate Supply Model 514
Chapter 18 Monetary Theory II: The IS—MP Model 546
Purchase Info ?
With CourseSmart eTextbooks and eResources, you save up to 60% off the price of new print textbooks, and can switch between studying online or offline to suit your needs.
Once you have purchased your eTextbooks and added them to your CourseSmart bookshelf, you can access them anytime, anywhere.
Buy Access
Money, Banking, and the Financial System, CourseSmart eTextbook
Format: Safari Book
$97.99 | ISBN-13: 978-0-13-255348-3