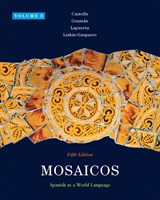 Description
The 5th edition of Mosaicos: Spanish as a World Language provides a fresh, 2lst-century perspective on language teaching and learning in the context of a dynamic introduction to the Hispanic world and its people. Rich contextualization of vocabulary combined with contextualized, functional grammatical instruction gives students an authentic, communicative introduction to the Spanish language. Deeply integrated culture and detailed listening, speaking, reading and writing practice bring all the pieces together for today's students.
Table of Contents
BRIEF CONTENTS VOLUME 3
10 ¡A comer!
11 La salud es lo primero
12 ¡Buen viaje!
13 Las artes y las letras
14 Los cambios sociales
15 Hacia el futuro
Expansión gramatical
APPENDIX 1 Stress and written accents in Spanish

Word formation in Spanish
APPENDIX 2 Verb Charts
APPENDIX 3 Spanish-English Vocabulary
APPENDIX 4 English-Spanish Vocabulary
INDEX
Purchase Info
ISBN-10: 0-205-63607-1
ISBN-13: 978-0-205-63607-5
Format: Alternate Binding
This title is currently unavailable on myPearsonStore.