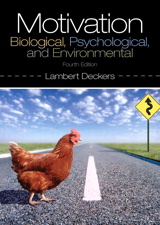 Description
A complete overview of motivation and emotion.
Well-grounded in the history of the field, the fourth edition of Motivation: Biological, Psychological, and Environmental combines classic studies with current research. The text provides an overarching organizational scheme of how motivation (the inducement of action, feelings, and thought) leads to behavior from physiological, psychological, and environmental sources. The material draws on topics that are familiar to students while maintaining a conversational tone to sustain student interest.
This text is available in a variety of formats – print and digital. Check your favorite digital provider for your etext, including Coursesmart, Kindle, Nook, and more. To learn more about our programs, pricing options and customization, click the Choices tab.
Learning Goals
Upon completing this book, readers will be able to:
Define motivation and emotion.
Understand the psychological aspects of motivation.
Examine how the environment is a large source of motivation.
Table of Contents
In this Section:
1. Brief Table of Contents
2. Full Table of Contents
---
1. Brief Table of Contents
Part One: Introduction and History
Chapter 1: Introduction to Motivation and Emotion
Chapter 2: The History of Motivation and Emotion
Part Two: Biological Properties of Motivation
Chapter 3: Evolutionary Antecedents of Motivation
Chapter 4: Addictions and Addictive Behaviors
Chapter 5: Homeostasis: Temperature, Thirst, Hunger, and Eating
Chapter 6: Behavior, Arousal, and Affective Valence
Chapter 7: Stress, Coping, and Health
Part Three: Psychological Properties of Motivation
Chapter 8: Drives and Psychological Needs
Chapter 9: Personality Traits and Motivation
Part Four: External Sources of Motivation
Chapter 10: Extrinsic and Intrinsic Motivation
Chapter 11: Goal Motivation
Chapter 12: Economics of Motivation
Part Five: The Emotions
Chapter 13: Emotions and Moods
Chapter 14: Emotions as Motives
---
2. Full Table of Contents
Part One: Introduction and History
Chapter 1: Introduction to Motivation and Emotion
Meaning of Motivation
Sources of Motivation
Study of Motivation and Emotion
Chapter 2: The History of Motivation and Emotion
Brief History of Motivation
Brief History of Emotion
Part Two: Biological Properties of Motivation
Chapter 3: Evolutionary Antecedents of Motivation
Evolution of Universal Motives
Universal Motives for Relationships and Sex
Fear, Food Preferences, and Music as Universal Motives
Chapter 4: Addictions and Addictive Behaviors
Drugs of Abuse and Addiction
The Addiction Process
Behavioral Addictions
Chapter 5: Homeostasis: Temperature, Thirst, Hunger, and Eating
Internal Factors of Body Regulation
Food Characteristics and Eating
Person Characteristics and Eating
Chapter 6: Behavior, Arousal, and Affective Valence
Arousal and Performance
Theories about the Performance-Arousal Relationship
Arousal and Affective Valence
Chapter 7: Stress, Coping, and Health
Relationship between Life Events and Stress
Stressors Affect the Body
Variables Moderating the Impact of Life Events
Part Three: Psychological Properties of Motivation
Chapter 8: Drives and Psychological Needs
Drives and Needs as Internal Sources of Motivation
Some Important Psychological Needs
Chapter 9: Personality Traits and Motivation
Personality Associated with Motivation
Personality Traits Affect Motivation
Part Four: External Sources of Motivation
Chapter 10: Extrinsic and Intrinsic Motivation
Extrinsic Motivation and Incentive Value
Factors That Affect Incentive Value
Intrinsic Motivation
Chapter 11: Goal Motivation
Origins of Goals
Goal Characteristics and Expectations
Goal Commitment, Planning, and Achievement
Chapter 12: Economics of Motivation
Motivation Costs and Resources
Spending Motivation Resources
Motivation toward Least Effort
Part Five: The Emotions
Chapter 13: Emotions and Moods
Characteristics and Categories of Emotions
The Function of Arousal
Moods
Chapter 14: Emotions as Motives
Appraisal of the Emotion Event
Emotions Motivate Facial Expressions
The Motivating Function of Emotions