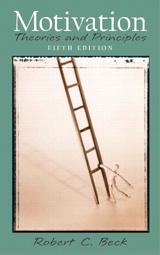 Table of Contents
I. ORIENTATION.
1. The Nature of Motivation Theory.
2. Emotional Foundations of Motivation.
3. Species-Specific Behaviors.
II. THE REGULATION OF INTERNAL STATES.
4. Eating and Taste.
5. Thirst, Temperature Regulation, Addiction, and Reproduction.
6. Drive and Activation.
III. THE REGULATION OF BEHAVIOR.
7. Rewards as Reinforcers.
8. Rewards as Incentives.
9. Escape, Fear, Avoidance, and Punishment.
10. Frustration, Anxiety, Stress, and Coping.
11. Aggression and Altruism.
IV. PERSONALITY, SOCIAL, AND COGNATIVE MOTIVES.
12. Personality and Individual Differences.
13. Attitudes and Cognitive Consistency.
14. Interpersonal Attraction.
15. Applications of Motivation Theory.
References.