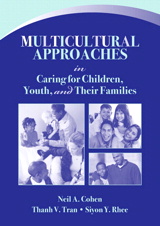 Description
Multicultural Approaches in Caring for Children, Youth, and Their Families emphasizes the importance of utilizing a pro-active, strengths-based practice strategy in working with multi-culturally diverse children, youth, families, organizations and communities.
The text adds to the body of child welfare practice knowledge by blending contemporary child issues with emphasis on practice skill enhancement. The book's authors have systematically focused on serving communities, child welfare organizations and families of different racial, ethnic, religious, economic, and structural backgrounds. Emphasis is placed on developing a pro-active, strengths-based practice strategy. Each chapter contains rich case examples wherein the respective authors present teaching points designed to further the reader's comprehension of knowledge for practice. Our book also contains new material on white ethnics, working with torture victims, issues surrounding fairness and equity in the child welfare system, and administrative, policy practices and their interface with multicultural dynamics in services to children, youth and families.
Table of Contents
Preface.
1. The Boundaries of Child Welfare.
2. Fairness and Multicultural Competence in the Child Welfare System.
3. Child Welfare Perspectives and Approaches with African American Children, Youth and Families.
4. American Indian and Alaska Native Children: A Legacy of Suffering, Survival and Strength.
5. Child Welfare Practice with Asian and Pacific Islander American Children, Youth and Families.
6. Multicultural Child Welfare Practice With Latino Children, Youth And Families.
7. Social Services Among White Ethnic and Middle Eastern Children, Youth and Families.
8. Transcultural Approaches in Working with Traumatized Refugee and Asylum Seeking Children, Youth and Their Families.
9. Administrative Issues in Diversity.
Summary and Closing Remarks.