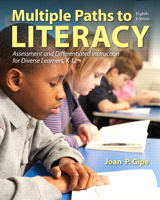 Description
This book presents an analytical approach, consistent with Response to Intervention (RTI), coupled with practical strategies for recognizing students' literacy strengths and needs, identifying students with special needs, and planning for differentiated instruction. It takes into account each learner's talents and multiple intelligences with the goal of tailoring instruction to meet those needs.
Making literacy accessible for all students is what this highly regarded book is all about. Supporting a view of literacy development that includes multiple forms of literacy, from text-based forms to technology-related literacy to visual literacy and the performing arts, it describes the analytic process as a means to achieving effective differentiation. A focus on data-driven decision-making and Response to Intervention (RTI) consistent with applying the analytic process is integrated throughout.
The author describes strategies and techniques appropriate to, or easily modified for, any grade level, from primary through secondary school. The new edition highlights the Common Core State Standards that can be met by using a particular technique or strategy, and notes the specific standard in a corresponding margin note. All of the practical strategies described in the text are listed on the inside front and back covers, with page numbers and the categorized skill area.
Table of Contents
Preface x
PART I Foundations
CHAPTER 1 Fundamental Aspects of Literacy Learning 2
OBJECTIVES Ï VOCABULARY ALERT 2
Dimensions of Literacy 3
Literacy Is a Language Process 4 • Literacy Is a Cognitive Process 5 • Literacy Is a Psychological or
Affective Process 5 • Literacy Is a Social/Cultural Process 6 • Literacy Is a Physiological Process 6 •
Literacy Is an Emerging Process 7 • Literacy Represents the Linguistic Intelligence 8
Arts Connection 10
Prevalent Views About Literacy Instruction 10
Two Major Goals of an Effective Literacy Program 13
Academic Literacy 13 • Recreational Literacy 13
Summary 15
Recommended Websites 15
CHAPTER 2 The Analytic Process: Preparation for Differentiating Instruction and Data-Driven Decision Making 16
OBJECTIVES Ï VOCABULARY ALERT 16
Justification for the Analytic Process 17
Problems Associated with Assumptive Teaching 17 • The Analytic Process Paradigm and the
RTI Framework 19
Analytic Teaching: Teaching for Democracy and Social Justice 19
The Analytic Teacher 20 • The Analytic Process and Multiple Intelligences Theory 21
Arts Connection 24
Analyzing Components of Literacy Learning to Assist Differentiated Instruction 25
Levels of Analysis and Correlative Diagnostic Questions 25
Basic Steps in the Analytic Process 31
Analysis of Literacy Behaviors 31 • Generation of Possible Teaching Hypotheses 31 • Teaching
32 • Reexamination of Literacy Behaviors 35
From Teaching Hypotheses to Lesson Plans 35
Distinguishing Teacher Objectives and Correlated Student Learning Objectives 36 • Writing
Student Learning Objectives 37 • Learning Activities 39
Summary 42
Recommended Websites 44
CHAPTER 3 Linguistic Diversity in Literacy Education for English Language Learners 46
OBJECTIVES Ï VOCABULARY ALERT 46
Communicative Competence 48
Some Linguistic Variations 50
Variations across Languages 50 • Variations within a Language 53 • Other Linguistic Variations 54
Aspects of Second-Language Acquisition 55
Some Diversity-Related Principles for Literacy Instruction 56
Arts Connection 60
Effective Instructional Practices for English Learners 61
A Developmental Stage Approach for English Language Acquisition 61 • Additional
Considerations when Planning Instruction for English Learners 64
Summary 65
Recommended Websites 66
CHAPTER 4 Physical, Psychological, and Environmental Factors Affecting Literacy Development 68
OBJECTIVES Ï VOCABULARY ALERT 68
Physical Factors 69
Arts Connection 78
Psychological Factors 80
Environmental Factors 85
Summary 92
Recommended Websites 92
CHAPTER 5 Formal Literacy Assessment: Summative Assessments 94
OBJECTIVES Ï VOCABULARY ALERT 94
Summative versus Formative Assessment
Purposes of Testing
Assessment and Evaluation: Basic Concepts 96
Definitions 96 • Basic Measurement Concepts 98
Purposes of Testing 101
Administering Standardized Tests 101
Standardized Reading Survey Tests 102 • Standardized Diagnostic Reading Tests 103 • Criterion
-Referenced Tests 105
Summary 107
Recommended Websites 107
CHAPTER 6 Informal Literacy Assessment: Formative Assessments 108
OBJECTIVES Ï VOCABULARY ALERT 108
Commonly Used Formative Assessment Tools 109
Text-Related Tests 109 • Informal Reading Inventories 111 • Cloze Procedure 127 •
Modifications for Emergent Readers 129 • Assessment by Observation, Conferences and
Interviews, and Performance Samples 129
Arts Connection 135
Documentation and Record Keeping 138
Vignette 139
Summary 142
Recommended Websites 142
PART II THE MAJOR DOMAINS
CHAPTER 7 Early Literacy Skills 144
OBJECTIVES Ï VOCABULARY ALERT 144
Early Literacy Development and Emergent Readers 145
Oral Language Development 145
Assessment Techniques for Oral Language 146 • Instruction for Oral Language Development
147
Arts Connection 149
Print Conventions and Book Handling 150
Assessment of Print Conventions and Book Handling 151 • Instruction for Print Conventions and
Book Handling 151
Phonemic Awareness 152
Assessment for Phonemic Awareness 152 • Instruction for Developing Phonemic Awareness 153
Letter Recognition 155
Assessment for Letter Recognition 156 • Instruction for Letter Recognition 157
Spotlight on English Learners: Word Configuration Boxes 159
Summary 160
Recommended Websites 161
CHAPTER 8 The Reading/Writing Connection: Best Practices and Strategies 162
OBJECTIVES Ï VOCABULARY ALERT 162
The Role of Teachers in an Effective Writing Program 163
Implementing the Writing Program 164
Observations, Initial Assessments, and Instructional Decisions 165 • Nonstructured Writing 166
• Structured Writing Lessons and Best Practices 167
The Creative Writing Process 175
Spotlight on English Learners: The Language Experience Approach 176
Prewriting 176
Arts Connection 177
Drafting/Composing and Sharing for Feedback 179 • Revising and Editing 179 •
Publishing/Sharing 181
Implementing a Spelling Program 181
Nonstructured Spelling 183 • Structured Spelling Best Practices 183
Writing Instruction and Assessment: A Continuous Process 185
Shared Observations 188 • Postwriting Questionnaires 188 • Spelling Questionnaires 188 •
Portfolios 189
Summary 190
Recommended Websites 191
CHAPTER 9 Word Recognition 192
OBJECTIVES Ï VOCABULARY ALERT 192
Listening Vocabulary 194
Assessment 195 • Instruction 195
Sight Vocabulary 196
Assessment 198 • Instruction 199
Fluency 205
Predictable Language Method 206 • Neurological Impress Method (NIM) 206 • Repeated Readings
207 • Echo Reading 207 • Readers' Theatre 207
Word Recognition Processes 208
Spotlight on English Learners: Choral Reading and Readers' Theater 209
Use of Context Clues 208 • Knowledge of Word Parts: Phonics and Structural Analysis 214
Arts Connection 216
Visual Analysis 219 • Blending and Synthesizing 226
Summary 229
Recommended Websites 230
CHAPTER 10 Reading Vocabulary 232
OBJECTIVES Ï VOCABULARY ALERT 232
Assessing Knowledge of Word Meanings 233
Identification 234 • Multiple Choice 235 • Matching 235 • Checking 236
Effective Instruction for Building Reading Vocabulary 237
Choosing Words to Teach 238 • Teaching Individual Word Meanings 239
Spotlight on English Learners: Homophones, Homographs, and Idioms 245
Teaching Word Learning Strategies 247
Arts Connection 250
Developing Word Awareness 255 • Instruction for Specialized Vocabulary 256
Summary 262
Recommended Websites 263
CHAPTER 11 Reading Comprehension: Foundations 264
OBJECTIVES Ï VOCABULARY ALERT 264
Factors Affecting the Comprehension Process 266
Factors within the Reader 266 • Factors within the Written Text 269 • Environmental Factors
270
Theories and Models of the Comprehension Process 271
Schema Theory 271 • Reading Comprehension as Cognitive-Based Processing 272 • Reading
Comprehension as Sociocognitive Processing 273 • Reading Comprehension as Transactional 273 •
Reading Comprehension as Transactional-Sociopsycholinguistic 274 • Reading Comprehension as
Influenced by Attitude 275
Skilled Versus Less Skilled Comprehenders 275
Assessment and Instruction for General Comprehension 277
Assessing the Ability to Organize Text 278 • Instruction for General Comprehension 280
Spotlight on English Learners: The Experience-Text-Relationship Method 291
Arts Connection 300
Summary 304
Recommended Websites 304
CHAPTER 12 Strategic Reading for Narrative Text 306
OBJECTIVES Ï VOCABULARY ALERT 306
Assessment for Narrative Text: Retellings 307
Instruction for Narrative Text 309
Spotlight on English Learners: Generating Stories 320
Arts Connection 321
Adolescent Literacy 323
Summary 325
Recommended Websites 325
CHAPTER 13 Strategic Reading for Expository Text 328
OBJECTIVES Ï VOCABULARY ALERT 328
Assessing Awareness of Strategic Reading for Expository Text 330
Instructional Techniques for Developing Strategic Reading for Expository Text 331
A Framework for Strategic Expository Reading 331
A Framework for Expository Writing
Spotlight on English Learners: GIST–Generating Interaction Between Schemata and Text 340
Expository Reading and the Internet 349
Arts Connection 349
Summary 352
Recommended Websites 352
CHAPTER 14 Study Skills and Test-Taking Strategies 354
OBJECTIVES Ï VOCABULARY ALERT 354
Study Skills and Prerequisite Abilities 356
Assessing Locational Skills 357
Alphabetizing 357 • Book Parts 358 • Reference Materials 358 • Reference Skills 360
Instruction for Developing Locational Skills 361
General Teaching Procedures for Direct Instruction 363 • Specific Activities 364
Assessing for Organizing Information 367
Attentive Listening 367 • Classifying Words, Phrases, and Sentences 367 • Main Ideas and Supporting
&nbs