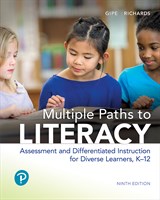 Description
NOTE: Used books, rentals, and purchases made outside of Pearson
If purchasing or renting from companies other than Pearson, the access codes for the Enhanced Pearson eText may not be included, may be incorrect, or may be previously redeemed. Check with the seller before completing your purchase.


This package includes the Enhanced Pearson eText.


Make literacy accessible for all students
Multiple Paths to Literacy: Assessment and Differentiated Instruction for Diverse Learners, K-12 presents an analytical approach–consistent with Response to Intervention (RTI)–with practical strategies for recognizing students' literacy strengths and needs, planning and differentiating instruction, and meeting standards. The strategies and techniques presented are appropriate to, or easily modified for, any grade level from primary through secondary school. Throughout, teachers are encouraged to take into account each learner's talents with the goal of tailoring instruction to meet their needs.
The 9th Edition includes a new chapter that shows how the arts can support the literacy development of all learners, spotlight features on students with special needs, new sections of disciplinary literacy and neurological disorders, and more.

Improve mastery and retention with the Enhanced Pearson eText*
The Enhanced Pearson eText provides a rich, interactive learning environment designed to improve student mastery of content with embedded video. The Enhanced Pearson eText is:
Engaging. The new interactive, multimedia learning features were developed by the authors and other subject-matter experts to deepen and enrich the learning experience.
Convenient. Enjoy instant online access from your computer or download the Pearson eText App to read on or offline on your iPad® and Android® tablet.**
Affordable. Experience the advantages of the Enhanced Pearson eText along with all the benefits of print for 40% to 50% less than a print bound book.
*The Enhanced eText features are only available in the Pearson eText format. They are not available in third-party eTexts or downloads.
**The Pearson eText App is available on Google Play and in the App Store. It requires Android OS 3.1-4, a 7" or 10" tablet, or iPad iOS 5.0 or later.
0134682211 / 9780134682211 Multiple Paths to Literacy: Assessment and Differentiated Instruction for Diverse Learners, K-12, with Enhanced Pearson eText -- Access Card Package
Package consists of:
0134683897 / 9780134683898 Multiple Paths to Literacy: Assessment and Differentiated Instruction for Diverse Learners, K-12
0134683943 / 9780134683942 Multiple Paths to Literacy: Assessment and Differentiated Instruction for Diverse Learners, K-12, Enhanced Pearson eText -- Access Card
Table of Contents
PART I: Foundations
1. Fundamental Aspects of Literacy Learning
2. The Analytic Process: Preparation for Differentiating Instruction and Data-Driven Decision-Making
3. Literacy Education of English Language Learners: Some Linguistic Aspects of Theory and Practice
4. Physical, Psychological, and Environmental Factors Affecting Literacy Development
5. Literacy Assessment: Summative and Formative Assessments

PART II: The Major Domains
6. Early Literacy Skills
7. Supporting All Students' Literacy Development through the Arts
8. The Reading-Writing Connection: Best Practices and Strategies
9. Word Recognition
10. Reading Vocabulary
11. Reading Comprehension: An Overview
12. Comprehending Narrative Text
13. Expository Text and Disciplinary Literacy
14. Study Skills and Test-Taking Strategies

APPENDICES: Assessment Resources