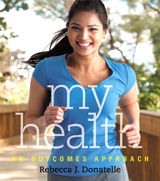 Description
When asked what their biggest challenges are for their course, students agree that there's too much to cover and not enough time. With My Health: An Outcomes Approach, we're giving you the tools you need to succeed.
The organization of the book into modules allows you to customize your study plan to fit your particular time constraints. Learning outcomes and "Check Yourself" review questions tied to these outcomes are part of each module, so you can learn the information and then test your understanding right away, getting immediate feedback on their progress. My Health's learning outcomes were developed and edited by instructors to ensure that they meet the course's needs nationwide.
Note: If you are purchasing the standalone text or electronic version, MasteringHealth does not come automatically packaged with the text. To purchase MasteringHealth please visit www.masteringhealthandnutrition.com or you can purchase a package of the physical text + MasteringHealth by searching for 0321982991/9780321982995 . MasteringHealth is not a self-paced technology and should only be purchased when required by an instructor.
Table of Contents
1. Healthy Change
2. Psychosocial Health
3. Stress
4. Relationships and Sexuality
5. Reproductive Choices
6. Addiction and Drug Abuse
7. Alcohol and Tobacco
8. Nutrition
9. Weight Management and Body Image
10. Fitness
11. CVD, Cancer, and Diabetes
12. Infectious Conditions
13. Violence and Unintentional Injuries
14. Environmental Health
15. Consumerism and Complementary and Alternative Medicine
Enhance your learning experience with text-specific study materials.
This title is also sold in the various packages listed below. Before purchasing one of these packages, speak with your professor about which one will help you be successful in your course.
Package ISBN-13: 9780321834249
Includes this title packaged with:
Behavior Change Log Book and Wellness Journal, 2nd Edition
. . Pearson Education, Rebecca J. Donatelle, Tanya R. Littrell
$93.80 | Add to Cart
Package ISBN-13: 9780321838339
Includes this title packaged with:
New Lifestyles Pedometer, 7th Edition
Janet N Benjamin Cummings
$105.13 | Add to Cart
Purchase Info
Digital Choices ?
MyLab & Mastering with Pearson eText is a complete digital substitute for a print value pack at a lower price.
MyLab & Mastering ?
MyLab & Mastering products deliver customizable content and highly personalized study paths, responsive learning tools, and real-time evaluation and diagnostics. MyLab & Mastering products help move students toward the moment that matters most—the moment of true understanding and learning.
+ Other Options
eTextbook ?
With CourseSmart eTextbooks and eResources, you save up to 60% off the price of new print textbooks, and can switch between studying online or offline to suit your needs.
Once you have purchased your eTextbooks and added them to your CourseSmart bookshelf, you can access them anytime, anywhere.
Print Choices
Loose Leaf Version ?
Books a la Carte are less-expensive, loose-leaf versions of the same textbook.