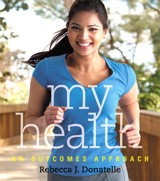 Description
My Health: An Outcomes Approach gives instructors and students the tools they need to succeed. Student learning outcomes provide concrete learning goals, and the modular organization ensures that students spend their study time efficiently and receive constant feedback. This book will make the Personal Health course more rewarding for both instructors and students.
The organization of the book into modules allows students to customize their study plan to fit their particular time constraints. Learning outcomes and "Check Yourself" review questions tied to those outcomes are part of each module, so students can learn the information and then test their understanding right away, giving them immediate feedback on their progress. Learning outcomes were developed and edited by instructors to ensure that they meet the course's needs nationwide.
Table of Contents
1. Healthy Change
2. Psychosocial Health
3. Stress
4. Relationships and Sexuality
5. Reproductive Choices
6. Addiction and Drug Abuse
7. Alcohol and Tobacco
8. Nutrition
9. Weight Management and Body Image
10. Fitness
11. CVD, Cancer, and Diabetes
12. Infectious Conditions
13. Violence and Unintentional Injuries
14. Environmental Health
15. Consumerism and Complementary and Alternative Medicine
Purchase Info ?
With CourseSmart eTextbooks and eResources, you save up to 60% off the price of new print textbooks, and can switch between studying online or offline to suit your needs.
Once you have purchased your eTextbooks and added them to your CourseSmart bookshelf, you can access them anytime, anywhere.
Buy Access
My Health: An Outcomes Approach, CourseSmart eTextbook
Format: Safari Book
$37.99 | ISBN-13: 978-0-321-80366-5