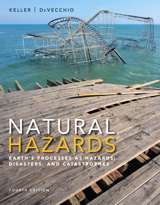 Description
For an introductory-level course in natural hazards
Natural Hazards
uses real-life examples of hazards and disasters to explore how and why they happen–and what we can do to limit their effects. The text's up-to-date coverage of recent disasters brings a fresh perspective to the material.
The Fourth Edition provides a new active learning approach, a fully updated visual program and revised pedagogy tools that highlight hallmark concepts of the text.

This program will provide an interactive and engaging learning experience for your students. Here's how:
Provide a balanced approach to the study of natural hazards: Focus on globalization of our economy, information access, and human effects on our planet in a broader, more balanced approach to the study of natural hazards.
Enhance understanding and comprehension of natural hazards: Newly revised stories and case studies give students a behind the scenes glimpse into the lives of survivors, professionals and hazardous events.
Strong pedagogy tools reinforce the text's core features: The new chapter structure and design organizes the material into three major sections to help students learn, digest, and review learning objectives.
Table of Contents
1. Introduction to Natural Hazards
2. Internal Structure of Earth and Plate Tectonics
3. Earthquakes
4. Tsunamis
5. Volcanoes
6. Flooding
7. Mass Wasting
8. Subsidence and Soils
9. Atmospheric Processes and Severe Weather
10. Hurricanes and Extratropical Cyclones
11. Coastal Hazards
12. Climate and Climate Change
13. Wildfires
14. Impacts and Extinctions
Appendix A Minerals
Appendix B Rocks
Appendix C Maps and Related Topics
Appendix D How Geologists Determine Geologic Time
Glossary
References
This title is also sold in the various packages listed below. Before purchasing one of these packages, speak with your professor about which one will help you be successful in your course.
Package ISBN-13: 9780134052892
Includes this title packaged with:
Hazard City for Modified MasteringGeology -- Standalone Access Card -- for Hazard City, 5th Edition
Edward A. Keller, Duane E. DeVecchio
$131.53 | Add to Cart
Package ISBN-13: 9780134193809
Includes this title packaged with:
Dire Predictions: Understanding Climate Change, 2nd Edition
Michael E. Mann, Lee R. Kump
$124.20 | Add to Cart
Purchase Info
ISBN-10: 0-321-93996-4
ISBN-13: 978-0-321-93996-8
Format: Alternate Binding
This publication is not currently for sale.
Digital Choices ?
MyLab & Mastering with Pearson eText is a complete digital substitute for a print value pack at a lower price.
MyLab & Mastering ?
MyLab & Mastering products deliver customizable content and highly personalized study paths, responsive learning tools, and real-time evaluation and diagnostics. MyLab & Mastering products help move students toward the moment that matters most—the moment of true understanding and learning.
+ Other Options