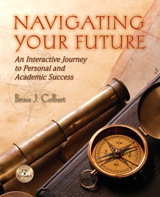 Description
Are you interested in a well rounded approach to success, including both academic and personal fulfillment? This working textbook and integrated CD engages students in assessing their current academic and workplace skills and developing specific action plans to ensure both academic and personal success. The first six chapters focus on how to do well "within yourself" or intrapersonal skills with topics such as stress management, positive attitude, time management, and goal setting. The middle chapters are devoted to academic skills including learning styles, critical/creative thinking, improving memory, and test taking. The last four will deal with succeeding "within your program and beyond" and address communication, group interaction, team building, job-seeking, and leadership development.
Table of Contents
Part One: Traveling Toward Personal Success
Chapter 1: Stress Management: The Skill that Affects All Others
Chapter 2: Positive Attitudes and Goals: Preparing for Success
Chapter 3: Managing Your Resources: Time and Money
Chapter 4: Active Study Strategies: Learning "How to Learn"
Chapter 5: Learning Styles, Memory and Test Taking: Getting the Grade
Chapter 6: Creative Thinking and Decision Making: Making Good Choices
Part Two: A Roadmap for Professional Success
Chapter 7: Communication in Action: Presenting Yourself to Others
Chapter 8: Group Interaction and Team Building: Working Together Works
Chapter 9: Job Seeking and Leadership Development: Your Future Career Begins Now
Chapter 10: Enhancing Your Personal Health: Take Care of Yourself Along the Journey
Appendix
Glossary
Index
Additional Course Materials
Purchase Info
ISBN-10: 0-13-196084-9
ISBN-13: 978-0-13-196084-8
Format: Alternate Binding
Digital Choices ?
MyLab & Mastering with Pearson eText is a complete digital substitute for a print value pack at a lower price.
MyLab & Mastering ?
MyLab & Mastering products deliver customizable content and highly personalized study paths, responsive learning tools, and real-time evaluation and diagnostics. MyLab & Mastering products help move students toward the moment that matters most—the moment of true understanding and learning.