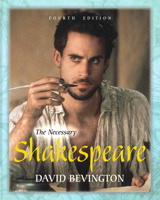 Description
Extracted from the best-selling Complete Works of Shakespeare, 7/e by David Bevington, The Necessary Shakespeare offers the most comprehensive scholarly apparatus, with the most often taught—necessary—of Shakespeare's work, creating a truly concise yet complete anthology.
The fourth edition of this anthology addresses the two key issues confronted by students approaching Shakespeare today:
(1) a lack of knowledge about the historical period and;
(2) difficulty with the language of Shakespeare's plays.
A richly illustrated general introduction offers insight into Shakespeare's England and background on the literary, social, and cultural contexts in which Shakespeare wrote and produced plays. Each play is introduced by a descriptive essay designed to help students appreciate the historical contexts and interpretive issues raised by the play, without dictating students' interpretations. Completely revised and updated notes and glosses support student readers line by line, paraphrasing Elizabethan expressions in clear and accessible contemporary language.
Table of Contents
GENERAL INTRODUCTION.
Reading Shakespeare in the Twenty-First Century
Life in Shakespeare's England
Shakespeare's World: A Visual Portfolio
London Theatres and Dramatic Companies.
Shakespeare's Life and Work.
How to Read Shakespeare
Shakespeare's Language.
Shakespeare Criticism.
COMEDIES.
The Taming of the Shrew.
A Midsummer Night's Dream.
The Merchant of Venice.
Much Ado About Nothing.
As You Like It.
Twelfth Night; Or, What You Will.
Measure for Measure.
HISTORIES.
The Tragedy of King Richard the Third.
The Tragedy of King Richard the Second.
The First Part of King Henry the Fourth.
The Life of King Henry the Fifth.
TRAGEDIES.
Romeo and Juliet.
Julius Caesar.
Hamlet, Prince of Denmark.
Othello, the Moor of Venice.
King Lear.
Macbeth.
Antony and Cleopatra.
ROMANCES.
The Winter's Tale.
The Tempest.
POEMS.
Sonnets.
Appendix 1. Canon, Dates, and Early Texts
Appendix 2. Sources.
Appendix 3. Shakespeare in Performance.
Appendix 4. Films and Videos as a Guide to the Study of Shakespeare.
The Royal Genealogy of England.
Maps.
Bibliography.
Textual Notes.
Glossary of Shakespearean Words.
Index.
Purchase Info ?
With CourseSmart eTextbooks and eResources, you save up to 60% off the price of new print textbooks, and can switch between studying online or offline to suit your needs.
Once you have purchased your eTextbooks and added them to your CourseSmart bookshelf, you can access them anytime, anywhere.
Buy Access
The Necessary Shakespeare, CourseSmart eTextbook, 4th Edition
Format: Safari Book
$42.99 | ISBN-13: 978-0-321-91914-4