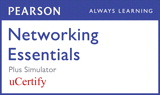 Description
&>
Pearson and uCertify—Bringing you Pearson's certified and academic peer reviewed content in an accessible, flexible, & scalable platform.
The Networking Essentials Pearson uCertify Course and Simulator Bundle is an Academic package designed for instructor-led classroom environments.
The package includes the Networking Essentials Pearson uCertify Course and the CompTIA Network+ N10-005 Simulator.
uCertify Course Instructor Feature Highlights
· Super roster for course and student management
· Master course and instantaneous cloning for multiple sections
· Powerful analytics to track student engagement and progress
· Customizable assignment dates and skill mastery levels
· Pre and post assessments for benchmarking
· Maps to certification exam domains
· Grade book export feature
uCertify Course Student Feature Highlights
· Device ready! Online on your computer, tablet, or your mobile device (Android, iOS)
· Course dashboard provides ease of use
· Interactive e-Learning elements throughout course
· Exercises, flash cards and quizzes
· Track progress via a personal study planner
· Video tutorials
· Simulator exercise guide for hands-on practice
About the Simulation Software
CompTIA Network+ N10-005 Simulator helps you reinforce Network+ exam topics and develop and enhance the hands-on skills you will need to succeed on the exam and on the job. This state-of-the-art, interactive simulation software presents you with more than 150 challenging labs that help you learn by doing, which is the most effective method of learning.

Experience realistic operating system and network device response as you work through each of the labs, which include detailed instructions, hints, and solution. Manipulate cables and other hardware and organize network devices on network topology maps. All Network+ N10-005 exam topics are covered, including networking concepts, network installation and configuration, network media and topologies, network management, and network security.
The labs are divided into five different types. Matching labs help you develop a mental map of concepts, enhancing retention and recall. Drag and Drop exercises allow you to work with physical cables and equipment and network designs. Command Line Interface (CLI) labs allow you to get hands-on experience configuring Cisco routers and switches. Graphical User Interface (GUI) labs allow you to work through common Windows 7, Windows Server 2008, Linux, and Linksys router configuration tasks. Worksheet exercises help you master numbering system conversions. Most labs conclude with Think About It sections to help you develop critical thinking skills and delve deeper into the concepts you are learning in the lab activities. You can save your grades on each lab in PDF format, and the software tracks your progress on each lab, so you always know exactly where you are in your studies.

In addition to the wealth of hands-on exercises, this software comes complete with more than four hours of video training by expert instructor Anthony Sequeira.
uCertify Course Minimum Requirements
· Internet access required
· Works on the following major browsers on versions no more than 2 years old:
· Google Chrome
· Internet Explorer
· Mozilla Firefox
· Safari
CompTIA Network+ N10-005 Simulator System requirements:
· Microsoft Windows XP (SP2/SP3), Windows Vista (32-bit/64-bit) with SP1, or Windows 7 (32-bit/64-bit), Mac OS X 10.6 or 10.7
· Intel® Pentium® III 1GHz or faster processor (Windows) or Intel Core™ Duo 1.83GHz or faster processor (Mac)
· 512 MB RAM (1 GB Recommended)
· 1.5 GB Hard Disk Space
· 32-bit color depth at 1024 x 768 resolution
· Adobe Acrobat Reader version 8.0 or higher
· Connection to the Internet during installation for access code validation