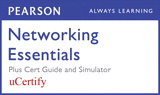 Description
Pearson and uCertify—Bringing you Pearson's certified and academic peer reviewed content in an accessible, flexible, & scalable platform.
The Networking Essentials Pearson uCertify Course, Textbook, and Simulator Bundle is an Academic package designed for instructor-led classroom environments.
The package includes the Networking Essentials Pearson uCertify Course, the Networking Essentials, Third Edition textbook, and the CompTIA Network+ N10-005 Simulator.
uCertify Course Instructor Feature Highlights
· Super roster for course and student management
· Master course and instantaneous cloning for multiple sections
· Powerful analytics to track student engagement and progress
· Customizable assignment dates and skill mastery levels
· Pre and post assessments for benchmarking
· Maps to certification exam domains
· Grade book export feature
uCertify Course Student Feature Highlights
· Device ready! Online on your computer, tablet, or your mobile device (Android, iOS)
· Course dashboard provides ease of use
· Interactive e-Learning elements throughout course
· Exercises, flash cards and quizzes
· Track progress via a personal study planner
· Video tutorials
· Simulator exercise guide for hands-on practice
About the Textbook
Thoroughly updated to reflect CompTIA's Network+ N10-005 exam, Networking Essentials, Third Edition, is a practical, up-to-date, and hands-on guide to the basics of networking. Written from the viewpoint of a working network administrator, it requires absolutely no experience with either network concepts or day-to-day network management.
Networking Essentials, Third Edition, includes expanded coverage of cabling, a new introduction to IPv6, and new chapters on basic switch configuration and troubleshooting. Its wireless and security chapters now focus strictly on introductory material, and you will also find up-to-date introductions to twisted-pair and fiber optic cabling, TCP/IP protocols, Internet and LAN interconnections, and basic network problem identification and resolution. Clear goals are outlined for each chapter, and every concept is introduced in easy to understand language that explains how and why networking technologies are used. Each chapter is packed with real-world examples and practical exercises that reinforce all concepts and guide you through using them to configure, analyze, and fix networks.
This textbook comes complete with full instructor supplements to assist instructors with building effective lesson plans. An instructor guide, PPT slide decks, and test bank are all offered to instructors adopting this book for their classroom.
About the Simulation Software
CompTIA Network+ N10-005 Simulator helps you reinforce Network+ exam topics and develop and enhance the hands-on skills you will need to succeed on the exam and on the job. This state-of-the-art, interactive simulation software presents you with more than 150 challenging labs that help you learn by doing, which is the most effective method of learning.

Experience realistic operating system and network device response as you work through each of the labs, which include detailed instructions, hints, and solution. Manipulate cables and other hardware and organize network devices on network topology maps. All Network+ N10-005 exam topics are covered, including networking concepts, network installation and configuration, network media and topologies, network management, and network security.
The labs are divided into five different types. Matching labs help you develop a mental map of concepts, enhancing retention and recall. Drag and Drop exercises allow you to work with physical cables and equipment and network designs. Command Line Interface (CLI) labs allow you to get hands-on experience configuring Cisco routers and switches. Graphical User Interface (GUI) labs allow you to work through common Windows 7, Windows Server 2008, Linux, and Linksys router configuration tasks. Worksheet exercises help you master numbering system conversions. Most labs conclude with Think About It sections to help you develop critical thinking skills and delve deeper into the concepts you are learning in the lab activities. You can save your grades on each lab in PDF format, and the software tracks your progress on each lab, so you always know exactly where you are in your studies.

In addition to the wealth of hands-on exercises, this software comes complete with more than four hours of video training by expert instructor Anthony Sequeira.
uCertify Course Minimum Requirements
· Internet access required
· Works on the following major browsers on versions no more than 2 years old:
· Google Chrome
· Internet Explorer
· Mozilla Firefox
· Safari
CompTIA Network+ N10-005 Simulator System requirements:
· Microsoft Windows XP (SP2/SP3), Windows Vista (32-bit/64-bit) with SP1, or Windows 7 (32-bit/64-bit), Mac OS X 10.6 or 10.7
· Intel® Pentium® III 1GHz or faster processor (Windows) or Intel Core™ Duo 1.83GHz or faster processor (Mac)
· 512 MB RAM (1 GB Recommended)
· 1.5 GB Hard Disk Space
· 32-bit color depth at 1024 x 768 resolution
· Adobe Acrobat Reader version 8.0 or higher
· Connection to the Internet during installation for access code validation
Table of Contents
Networking Essentials Table of Contents
Introduction xxii
Chapter 1 Introduction to Computer Networks 2
1-1 INTRODUCTION 5
1-2 NETWORK TOPOLOGIES 7
Section 1-2 Review 11
Test Your Knowledge 12
1-3 THE OSI MODEL 12
Section 1-3 Review 14
Test Your Knowledge 15
1-4 THE ETHERNET LAN 15
IP Addressing 19
Section 1-4 Review 21
Test Your Knowledge 22
1-5 HOME NETWORKING 22
Securing the Home Network 34
IP Addressing in the Home Network 36
Section 1-5 Review 37
Test Your Knowledge 38
1-6 ASSEMBLING AN OFFICE LAN 38
Section 1-6 Review 43
Test Your Knowledge 44
1-7 TESTING AND TROUBLESHOOTING A LAN 44
Section 1-7 Review 46
Test Your Knowledge 47
Summary 48
Questions and Problems 48
Section 1-1 48
Section 1-2 49
Section 1-3 50
Section 1-4 51
Section 1-5 52
Section 1-6 54
Section 1-7 55
Certification Questions 55
Chapter 2 Physical Layer Cabling: Twisted Pair 58
2-1 INTRODUCTION 61
2-2 STRUCTURED CABLING 62
Horizontal Cabling 65
Section 2-2 Review 68
Test Your Knowledge 69
2-3 UNSHIELDED TWISTED-PAIR CABLE 69
Shielded Twisted-pair Cable 72
Section 2-3 Review 72
Test Your Knowledge 72
2-4 TERMINATING CAT6/5E/5 UTP CABLES 73
Computer Communication 74
Straight-through and Crossover Patch Cables 76
Section 2-4 Review 85
Test Your Knowledge 85
2-5 CABLE TESTING AND CERTIFICATION 86
Section 2-5 Review 90
Test Your Knowledge 90
2-6 10 Gigabit Ethernet over Copper 90
Overview 91
Alien Crosstalk 91
Signal Transmission 93
Section 2-6 Review 94
Test Your Knowledge 94
2-7 TROUBLESHOOTING CABLING SYSTEMS 94
Installation 94
Cable Stretching 95
Cable Failing to Meet Manufacturer
Specifications 95
CAT5e Cable Test Examples 96
Section 2-7 Review 103
Test Your Knowledge 104
Summary 105
Questions and Problems 105
Section 2-1 105
Section 2-3 106
Section 2-4 107
Section 2-5 109
Section 2-6 109
Certification Questions 112
Chapter 3 Physical Layer Cabling: Fiber Optics 114
3-1 INTRODUCTION 117
3-2 THE NATURE OF LIGHT 119
Graded-Index Fiber 123
Single-Mode Fibers 124
Section 3-2 Review 125
Test Your Knowledge 125
3-3 FIBER ATTENUATION AND DISPERSION 126
Attenuation 126
Dispersion 127
Dispersion Compensation 129
Section 3-3 Review 130
Test Your Knowledge 130
3-4 OPTICAL COMPONENTS 130
Intermediate Components 132
Detectors 132
Fiber Connectorization 134
Section 3-4 Review 135
Test Your Knowledge 135
3-5 OPTICAL NETWORKING 136
Defining Optical Networking 136
Building Distribution 138
Campus Distribution 141
Section 3-5 Review 144
Test Your Knowledge 145
3-6 SAFETY 145
Section 3-6 Review 146
Test Your Knowledge 146
Summary 147
Questions and Problems 147
Section 3-1 147
Section 3-2 147
Section 3-3 148
Section 3-4 148
Section 3-5 149
Section 3-6 149
Certification Questions 150
Chapter 4 Wireless Networking 152
4-1 INTRODUCTION 154
4-2 THE IEEE 802.11 WIRELESS LAN STANDARD 155
Section 4-2 Review 162
Test Your Knowledge 162
4-3 802.11 WIRELESS NETWORKING 163
Section 4-3 Review 171
Test Your Knowledge 172
4-4 Bluetooth, WiMAX, and RFID 172
Bluetooth 172
WiMAX 174
Radio Frequency Identification 175
Section 4-4 Review 179
Test Your Knowledge 179
4-5 SECURING WIRELESS LANS 179
Section 4-5 Review 182
Test Your Knowledge 182
4-6 CONFIGURING A POINT-TO-MULTIPOINT
WIRELESS LAN: A CASE STUDY 183
1. Antenna Site Survey 183
2. Establishing a Point-to-Point Wireless Link to the Home Network 184
3–4. Configuring the Multipoint Distribution/Conducting an RF Site Survey 185
5. Configuring the Remote Installations 187
Section 4-6 Review 187
Test Your Knowledge 188
Summary 189
Questions and Problems 189
Section 4-2 189
Section 4-3 190
Section 4-4 191
Section 4-5 192
Section 4-6 193
Critical Thinking 193
Certification Questions 194
Chapter 5 Interconnecting the LANs 196
5-1 INTRODUCTION 198
5-2 THE NETWORK BRIDGE 199
Section 5-2 Review 203
Test Your Knowledge 204
5-3 THE NETWORK SWITCH 204
Hub–Switch Comparison 206
Managed Switches 209
Multilayer Switches 214
Section 5-3 Review 214
Test Your Knowledge 215
5-4 THE ROUTER 215
The Router Interface: Cisco 2800 Series 216
The Router Interface—Cisco 2600 Series 217
The Router Interface—Cisco 2500 Series 218
Section 5-4 Review 220
Test Your Knowledge 220
5-5 INTERCONNECTING LANS WITH THE ROUTER 221
Gateway Address 223
Network Segments 223
Section 5-5 Review 224
Test Your Knowledge 224
5-6 CONFIGURING THE NETWORK INTERFACE—AUTO-NEGOTIATION 225
Auto-Negotiation Steps 225
Full-Duplex/Half-Duplex 226
Section 5-6 Review 228
Test Your Knowledge 228
Summary 229
Questions and Problems 229
Section 5-2 229
Section 5-3 230
Section 5-4 232
Section 5-5 232
Section 5-6 233
Critical Thinking 233
Certification Questions 234
Chapter 6 TCP/IP 236
6-1 INTRODUCTION 238
6-2 THE TCP/IP LAYERS 239
The Application Layer 240
The Transport Layer 241
The Internet Layer 245
The Network Interface Layer 248
Section 6-2 Review 248
Test Your Knowledge 249
6-3 NUMBER CONVERSION 249
Binary-to-Decimal Conversion 249
Decimal-to-Binary Conversion 251
Hexadecimal Numbers 252
Section 6-3 Review 255
Test Your Knowledge 255
6-4 IPv4 ADDRESSING 255
Private IP Addresses n hj h 258
IP Address Assignment 258
Section 6-4 Review 259
Test Your Knowledge 259
6-5 SUBNET MASKS 259
Section 6-5 Review 266
Test Your Knowledge 266
6-6 CIDR BLOCKS 267
Section 6-6 Review 269
Test Your Knowledge 270
6-7 IPV6 ADDRESSING 270
Section 6-7 Review 273
Test Your Knowledge 273
Summary 274
Questions and Problems 274
Section 6-2 274
Section 6-3 276
Section 6-4 277
Section 6-5 278
Section 6-6 280
Section 6-7 282
Critical Thinking 282
Certification Questions 283
Chapter 7 Introduction to Router Configuration 286
7-1 INTRODUCTION 288
7-2 ROUTER FUNDAMENTALS 289
Layer 3 Networks 290
Section 7-2 Review 296
Test Your Knowledge 296
7-3 THE CONSOLE PORT CONNECTION 296
Configuring the HyperTerminal
Software (Windows) 298
Configuring the Z-Term Serial
Communications Software (Mac) 300
Section 7-3 Review 302
Test Your Knowledge 302
7-4 THE ROUTER'S USER EXEC MODE (ROUTER>) 303
The User EXEC Mode 303
Router Configuration Challenge: The User
EXEC Mode 305
Section 7-4 Review 308
Test Your Knowledge 308
7-5 THE ROUTER'S PRIVILEGED EXEC MODE (ROUTER#) 308
Hostname 309
Enable Secret 310
Setting the Line Console Passwords 310
Fast Ethernet Interface Configuration 311
Serial Interface Configuration 312
Router Configuration Challenge: The
Privileged EXEC Mode 314
Section 7-5 Review 316
Test Your Knowledge 316
Summary 317
Questions and Problems 317
Section 7-1 317
Section 7-2 317
Section 7-3 320
Section 7-4 320
Section 7-5 321
Critical Thinking 322
Certification Questions 323
Chapter 8 Introduction to Switch Configuration 326
8-1 INTRODUCTION 328
8-2 Introduction to VLANs 329
Virtual LAN 329
Section 8-2 Review 330
Test Your Knowledge 330
8-3 Introduction to Switch Configuration 330
Hostname 331
Enable Secret 332
Setting the Line Console Passwords 332
Static VLAN Configuration 333
Networking Challenge—Switch Configuration 337
Section 8-3 Review 337
Test Your Knowledge 338
8-4 Spanning-Tree Protocol 338
Section 8-4 Review 339
Test Your Knowledge 340
8-5 Network Management 340
Configuring SNMP 341
Section 8-5 Review 344
Test Your Knowledge 344
8-6 Power over Ethernet 344
Section 8-6 Review 346
Test Your Knowledge 347
Summary 348
Questions and Problems 348
Section 8-2 348
Section 8-3 349
Section 8-4 350
Section 8-5 350
Section 8-6 352
Critical Thinking 353
Certification Questions 353
Chapter 9 Routing Protocols 356
9-1 INTRODUCTION 358
9-2 STATIC ROUTING 359
Gateway of Last Resort 366
Configuring Static Routes 366
Networking Challenge: Chapter 9—
Static Routes 368
Section 9-2 Review 369
Test Your Knowledge 369
9-3 DYNAMIC ROUTING PROTOCOLS 370
Section 9-3 Review 371
Test Your Knowledge 371
9-4 DISTANCE VECTOR PROTOCOLS 372
Section 9-4 Review 374
Test Your Knowledge 374
9-5 LINK STATE PROTOCOLS 375
Section 9-5 Review 378
Test Your Knowledge 378
9-6 HYBRID PROTOCOLS 378
Section 9-6 Review 379
Test Your Knowledge 379
9-7 CONFIGURING RIP and RIPv2 379
Configuring Routes with RIP 381
Configuring Routes with RIP Version 2 385
Networking Challenge—RIP V2 387
Section 9-7 Review 388
Test Your Knowledge 388
Summary 389
Questions and Problems 389
Section 9-2 389
Section 9-3 391
Section 9-4 392
Section 9-5 392
Section 9-6 393
Section 9-7 394
Critical Thinking 395
Certification Questions 395
Chapter 10 Internet Technologies: Out to the Internet 398
10-1 INTRODUCTION 401
10-2 THE LINE CONNECTION 402
Data Channels 403
Point of Presence 404
Section 10-2 Review 406
Test Your Knowledge 407
10-3 REMOTE ACCESS 407
Analog Modem Technologies 407
Cable Modems 408
xDSL Modems 408
The Remote Access Server 410
Section 10-3 Review 411
Test Your Knowledge 411
10-4 Metro Ethernet/Carrier Ethernet 412
Ethernet Service Types 413
Service Attributes 414
Section 10-4 Review 415
Test Your Knowledge 416
10-5 NETWORK SERVICES—DHCP AND DNS 416
The DHCP Data Packets 418
DHCP Deployment 419
Network Services: DNS 420
Internet Domain Name 421
Section 10-5 Review 423
Test Your Knowledge 423
10-6 INTERNET ROUTING—BGP 424
Section 10-6 Review 426
Test Your Knowledge 427
10-7 ANALYZING INTERNET DATA TRAFFIC 427
Utilization/Errors Strip Chart 428
Network Layer Matrix 429
Network Layer Host Table 430
Frame Size Distribution 430
Section 10-7 Review 431
Test Your Knowledge 432
Summary 433
Questions and Problems 433
Section 10-2 433
Section 10-3 434
Section 10-4 434
Section 10-5 435
Section 10-6 435
Certification Questions 436
Chapter 11 Troubleshooting 438
11-1 INTRODUCTION 440
11-2 ANALYZING COMPUTER NETWORKS 441
Using Wireshark to Inspect Data Packets 442
Using Wireshark to Capture Packets 444
Section 11-2 Review 446
Test Your Knowledge 446
11-3 ANALYZING COMPUTER NETWORKS—FTP DATA PACKETS 446
Section 11-3 Review 447
Test Your Knowledge 448
11-4 ANALYZING CAMPUS NETWORK DATA TRAFFIC 448
Section 11-4 Review 450
Test Your Knowledge 450
11-5 TROUBLESHOOTING THE ROUTER INTERFACE 451
Section 11-5 Review 454
Test Your Knowledge 454
11-6 TROUBLESHOOTING THE SWITCH INTERFACE 454
Section 11-6 Review 457
Test Your Knowledge 457
11-7 TROUBLESHOOTING FIBER OPTICS—The OTDR 457
Section 11-7 Review 459
Test Your Knowledge 459
Summary 460
Questions and Problems 460
Section 11-2 460
Section 11-3 461
Section 11-4 462
Section 11-5 462
Section 11-6 462
Section 11-7 463
Certification Questions 463
Chapter 12 Network Security 466
12-1 INTRODUCTION 468
12-2 INTRUSION (HOW AN ATTACKER GAINS CONTROL OF A NETWORK) 469
Social Engineering 469
Password Cracking 470
Packet Sniffing 470
Vulnerable Software 471
Viruses and Worms 473
Section 12-2 Review 474
Test Your Knowledge 474
12-3 DENIAL OF SERVICE 475
Distributed Denial-of-service Attacks 476
Section 12-3 Review 477
Test Your Knowledge 477
12-4 SECUITY SOFTWARE AND HARDWARE 477
Antivirus Software 477
Personal Firewall 478
Firewall 484
Other Security Appliances 485
Section 12-4 Review 486
Test Your Knowledge 486
12-5 INTRODUCTION TO VIRTUAL PRIVATE NETWORK 486
VPN Tunneling Protocols 487
Configuring a Remote Access VPN Server 489
Configuring a Remote Client's VPN
Connection 489
Cisco VPN Client 491
Section 12-5 Review 495
Test Your Knowledge 495
Summary 497
Questions and Problems 497
Section 12-2 497
Section 12-3 498
Section 12-4 498
Section 12-5 499
Critical Thinking 500
Certification Questions 500
Glossary of Key Terms 503
TOC, 1/31/2012, 9780789749031