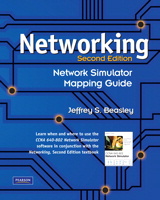 Components of the Package:
CCNA 640-802 Network Simulator
By Wendell Odom
Networking, 2nd Edition
By Jeffrey S. Beasley
Networking, Second Edition: Network Simulator Mapping Guide
By Jeffrey S. Beasley
Table of Contents
1. Introdcution to Computer Networks
2. physical Layer Cabling
3. Computer Fundamentals
4. Interconnecting the LAN's
5. TCP/IP
6. Introduction to Router Configuration
7. Routing Protocols
8. Wide Area Networking
9. Configuring and managing the Campus Network
10. Network Security
11. Wireless Networking
12. Optical Networking
13. Voice over IP
14. The Network Server
15. Linux Networking
16. Industrial Networks
Purchase Info
ISBN-10: 0-13-138484-8
ISBN-13: 978-0-13-138484-2
Format: ValuePack
This title is out of stock.