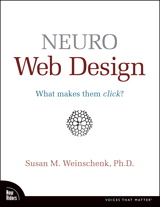 Description
"While you're reading Neuro Web Design, you'll probably find yourself thinking 'I already knew that…' a lot. But when you're finished, you'll discover that your ability to create effective web sites has mysteriously improved. A brilliant idea for a book, and very nicely done."
— Steve Krug, author of Don't Make Me Think!
A Common Sense Approach to Web Usability

Why do people decide to buy a product online? Register at your Web site? Trust the information you provide? Neuro Web Design applies the research on motivation, decision making, and neuroscience to the design of Web sites. You will learn the unconscious reasons for people's actions, how emotions affect decisions, and how to apply the principles of persuasion to design Web sites that encourage users to click.

Neuro Web Design employs "neuro-marketing" concepts, which are at the intersection of psychology and user experience. It's scientific, yet you'll find it accessible, easy to read, and easy to understand. By applying the concepts and examples in this book, you'll be able to dramatically increase the effectiveness and conversion rates of your own Web site.


Table of Contents
CHAPTER 1: Designing Web Sites for Persuasion and the Unconscious Mind
CHAPTER 2: Wanting to Belong: The Power of Social Validation
CHAPTER 3: Feeling Indebted: How to Build in Reciprocity and Concession
CHAPTER 4: Invoking Scarcity—If Something Seems Unavailable, We Seem to Want It Even More
CHAPTER 5: Choosing Carefully—Given Too Many Choices, We Freeze (and Then We Don't Choose at All)
CHAPTER 6: It's All About You: Speaking to the Self-Centered, Unconscious Mind
CHAPTER 7: Building Commitment—We Want to Think We're Consistent
CHAPTER 8: Using Similarity, Attractiveness, and Association: Are We the Same?
CHAPTER 9: Afraid to Lose—How Fear of Loss Trumps Our Anticipation of Victory
CHAPTER 10: Using Pictures and Stories—the Best Way to Talk to Our Unconscious Minds
CHAPTER 11: We're Social Animals—Finding the Next Big Thing by Making It Social
Appendix
Index


Purchase Info
ISBN-10: 0-321-60364-8
ISBN-13: 978-0-321-60364-7
Format: Safari PTG
This publication is not currently for sale.