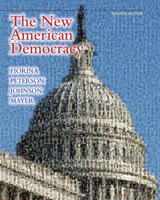 Description
Updated in a new 7th edition, The New American Democracy offers a stimulating, analytical approach to American government and a unique perspective on contemporary politics with an emphasis on elections and their importance in the American political system. The authors -- among the most well-known and well-respected scholars working in political science today --propose in their text that politicians today are perpetually engaged in the election process—a "permanent campaign"—which has profoundly affected how our government functions today.
Table of Contents
I. THE FOUNDATIONS OF A NEW AMERICAN DEMOCRACY.
1. Democracy in the United States.
2. Establishing a Constitutional Democracy.
3. Federalism: Division of Power Among National, State, and Local Governments.
4. American Political Culture
II. THE INGREDIENTS OF THE NEW AMERICAN DEMOCRACY.
5. Public Opinion.
6. Individual Participation.
7. Interest-Group Participation in American Democracy.
8. Political Parties.
9. The Media.
III. CAMPAIGNS AND ELECTIONS.
10. Electing the President.
11. Choosing the Congress.
IV. THE GOVERNMENT.
12. The Congress and Its Work.
13. The Presidency: Powers and Practice.
14. The Bureaucracy.
15. The Courts.
V. CIVIL LIBERTIES AND CIVIL RIGHTS.
16. Civil Liberties.
17. Civil Rights.
VI. PUBLIC POLICY.
18. Domestic Policy.
19. Economic Policy.
20. Foreign and Defense Policy.
Enhance your learning experience with text-specific study materials.
This title is also sold in the various packages listed below. Before purchasing one of these packages, speak with your professor about which one will help you be successful in your course.
Package ISBN-13: 9780205230709
Includes this title packaged with:
Culture War? The Myth of a Polarized America, 3rd Edition
Morris P. Fiorina, Samuel J. Abrams, Jeremy C. Pope
$193.40 | Add to Cart
Purchase Info
ISBN-10: 0-205-78016-4
ISBN-13: 978-0-205-78016-7
Format: Book
$181.00
We're temporarily out of stock, but order now and we'll send it to you later.
Back Order
Digital Choices ?
MyLab & Mastering with Pearson eText is a complete digital substitute for a print value pack at a lower price.
MyLab & Mastering ?
MyLab & Mastering products deliver customizable content and highly personalized study paths, responsive learning tools, and real-time evaluation and diagnostics. MyLab & Mastering products help move students toward the moment that matters most—the moment of true understanding and learning.
+ Other Options
Print Choices
Loose Leaf Version ?
Books a la Carte are less-expensive, loose-leaf versions of the same textbook.