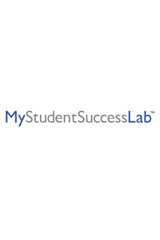 Description
For students enrolled in College Bootcamp, Orientation to College, Freshman Experience/Student Success, Academic Skills, Career Development, and Professionalism courses, MyStudentSuccessLab (www.mystudentsuccesslab.com) is an online solution designed to help students 'Start strong, Finish stronger' by building skills for ongoing personal and professional development.
MyStudentSuccessLab is a Learning Outcomes based technology helps you advance your knowledge and get the practice you need to build critical skills for success. You'll get for the course, 83 Full Course Pre- and Post-Diagnostic questions (Bloom's Taxonomy Levels I-VI) linked to key learning objectives in each topic. For each topic, the Learning Path Diagnostic offers 20 Pre- and Post-Test (Bloom's Taxonomy level I-VI) questions. It provides an Overview of learning objectives to build vocabulary and repetition, and gives you access to Video interviews on key issues 'by students, for students'. The Practice exercises improve class preparation and learning. Graded Activities build critical thinking skills and develop problem-solving abilities. Students have access to relevant FinishStronger247 YouTube videos, the Pearson student Facebook page chock full of tips, and MySearchLab use for doing effective research.
Table of Contents
MyStudentSuccessLab Topic List
1. A First Step: Goal Setting
2. Communication
3. Critical Thinking
4. Financial Literacy
5. Information Literacy
6. Interviewing
7. Job Search Strategies
8. Learning Preferences
9. Listening and Taking Notes in Class
10. Majors/Careers and Resumes
11. Memory and Studying
12. Problem Solving
13. Reading and Annotating
14. Stress Management
15. Teamwork
16. Test Taking
17. Time Management
18. Workplace Communication (formerly Professionalism)
19. Workplace Etiquette
Purchase Info
ISBN-10: 0-321-85709-7
ISBN-13: 978-0-321-85709-5
Format: CourseCompass
$60.50
You can purchase immediate access to this online product with a credit card.
Buy Access