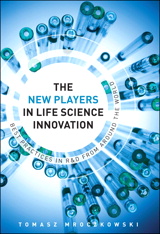 Description
The global center of gravity in life sciences innovation is rapidly shifting to emerging economies. In The New Players in Life Science Innovation, Tomasz Mroczkowski explains how China and other new economic powers are rapidly gaining leadership positions, and thoroughly assesses the implications. Mroczkowski discusses the sophisticated innovation strategies and reforms these nations have implemented: approaches that don't rely on market forces alone, and are achieving remarkable success. Next, he previews the emerging global "bio-economy," in which life science discoveries will be applied pervasively in markets ranging from health to fuels. As R&D in the West becomes increasingly costly, Mroczkowski introduces new options for partnering with new players in the field. He thoroughly covers the globalization of clinical trials, showing how it offers opportunities that go far beyond cost reduction, and assessing the unique challenges it presents. Offering examples from China to Dubai to India, he carefully assesses the business models driving today's newest centers of innovation. Readers will find up-to-date coverage of bioparks, technology zones, and emerging clusters, and realistic assessments of global R&D collaboration strategies such as those of Eli Lilly, Merck, Novartis, and IBM. With innovation-driven industries increasingly dominating the global economy, this book's insights are indispensable for every R&D decision-maker and investor.
Table of Contents
Acknowledgments viii
About the Author ix
Chapter 1 Power Shifts in Global R&D and Innovation: What They Mean for Firms in Life Science Businesses 1
Chapter 2 The Race for the Best National Innovation System: Who Has the Most Effective Strategy 37
Chapter 3 A Reshuffling of Markets and Growth Opportunities 73
Chapter 4 Improving R&D Productivity: Contract Research and Discovery Collaborations with the New Players as Solutions 109
Chapter 5 Globalization of Clinical Trials: It Is Not Just About Slashing Costs 151
Chapter 6 Accelerating Innovation: Bioparks, Technology Zones, and Emerging Clusters 193
Chapter 7 Company Strategies of Global R&D Collaborations: From West Meets West to West Meets East 229
Chapter 8 The Future: The Expanding Universe of Global Innovation 269
Endnotes 303
Index 331
Purchase Info
ISBN-10: 0-13-217270-4
ISBN-13: 978-0-13-217270-7
Format: Safari PTG
This publication is not currently for sale.