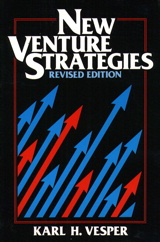 Table of Contents


1. Perspectives on Entrepreneurship.


2. Success and Failure Factors.


3. Career Departure Points.


4. Sequences in Startup.


5. Sources of Venture Ideas.


6. Evaluating Venture Ideas.


7. Main Competitive Entry Wedges.


8. Other Entry Wedges.


9. Acquisition Finding.


10. Acquisition Dealing.


Appendices.


Bibliography.


Index.

Print
Add to CartNew Venture Strategies (Revised Edition), 2nd Edition
$150.60 $143.07 | ISBN-13: 978-0-13-615907-0
Free Ground Shipping.
This title is "Available on Demand" and is printed to order in black & white and may not reflect the quality of the original edition. Please allow an additional 5 to 7 business days for processing.